nIn this guide, we'll be looking at the types of International Air Transport Association (IATA)
airline approved dog crates
and carriers available and where to buy them. We'll be looking at airline pet travel requirements for carriers, standard crates, and stronger
IATA CR 82 crates
for dog breeds that are considered to be aggressive or dangerous.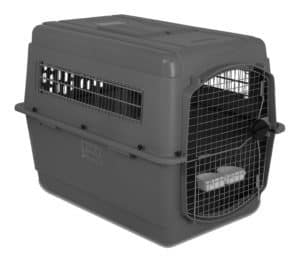 It is important when flying with your pet to select a crate or carrier that meets the IATA requirements for air travel with your breed of dog.
Beyond that it is also important to be aware of any specific additional requirements on top of those set by by the IATA of the airline you're flying with. A crate meeting IATA requirements does not necessarily mean that you're automatically good to fly with your airline of choice.
So we'll discuss the general airline regulations for dog crates and carriers that make certain crates and carriers "airline approved" as set out by the IATA.
Then we'll discuss the need to check the requirements of the airline that you are flying with. Because airlines are free to set their own individual additional requirements – and they do exercise that right, you will need to check the requirements of the air travel companies that you are considering flying with, before getting too far ahead with your plans to fly with your pet.
International Air Transport Association (IATA)
While some people may be looking for an FAA approved pet carrier or kennel, the Federal Aviation Administration does not set the standards. It is done on an international level by the International Air Transport Association (IATA).
The IATA represents the trade association of world airlines. Among the many things it does, it has set the basic guidelines for flying with pets. Basic, because airlines are free to go even further with their own requirements. Below are some of the main requirements.
Options for Flying with Pets
There are two options for pet travel by plane.
Your pet can stay with you in the cabin. This is subject to certain criteria like your pet being small.
Your pet will have to travel separately in the plane's cargo. This will apply to large pets and dog breeds classed as potentially aggressive.
Airline Approved Dog Carriers & Crates For Carry On Pet Travel
For airlines that will let you bring your small pet in the plane's cabin, your dog will need to be placed in an airline approved dog carrier that can fit under the passenger seat. Airlines who allow this often do so for flights that are less than 6 hours.
Click here to buy the Sherpa Deluxe Pet Carrier on Amazon
For American Airlines, the maximum size for the crate if you choose the cabin option is 19 inches L x 13 inches W x 9 inches H.
Soft sided collapsible airline approved dog carriers with American Airlines can be larger. However they must also be made of water-repellent material. They must also either have padding or have nylon mesh ventilation on two or more of the carrier's sides.
Airline Dog Crates For Travel As Cargo
There are two options for pet travel as cargo:
accompanied – you are on the same flight as your pet
non-accompanied – you are not on the same flight as your pet.
Accompanied Baggage Cargo
There's the option to let your pet travel in the cargo hold to accompany your checked baggage but this is only allowed if you and your dog are on the same flight. IATA dog crate regulations state that the crate must be properly ventilated, sturdy and has enough room for your dog to lie down, stand and turn around.
The crate must be labeled LIVE ANIMALS and you need to also provide your name and address, as well as arrows to mark the top of the crate. There are airlines that will require you to display the feeding schedule of your dog (if necessary) and provide enough supply of food and water with two dishes included.
Non-Accompanied Baggage Cargo
While only a few airlines allow pets in the cabin, most airlines allow pets to fly as cargo shipments and they travel through regular or expedited routes. This is especially true for airlines with large aircraft with the exception of JetBlue, Frontier, Virgin America, Southwest and a few others.
What makes this option different from the last (accompanied baggage) is that you don't need to be on the same flight as your dog. But still, you'll be required to provide your contact information and address, along with the destination of your pet.
For cargo travel, your pet must be contained in a crate that cannot be bent or distorted, with a door that is welded or cast metal. There should also be locking pins and door hinge that are no less than 5/8 of an inch below and above the door.
Airline Approved Pet Crate Requirements for Pets Traveling as Cargo
Get a crate that is IATA compliant – this is a must. Also note that compliance only represents an agreed standard among the airlines that will ship pets. It is not a guarantee.
A number of pet friendly airlines add their own requirements for traveling with your dog. So you will also need to find out if your specific airline has other special requirements for pet travel crates.
IATA Requirements For Pet Crates
The floor should be leak-proof and solid.
The crate should be made of rigid plastic, metal, fiber glass, weld metal mesh or solid wood
The crate must be big enough to enable your pet to lie down, stand up and turn around.
The handles should be located on the long side of the crate.
The door must have a robust all around locking system with pins that are at least 5/8 of an inch above or below the door.
Some airlines will also require you to secure the crate door with cable ties.
Some airlines require you to secure the crate with metal hardware.
The door should be made of welded or cast metal or heavy plastic that your dog cannot bend.
The roof can have ventilation as long as it doesn't compromise its strength.
Bowls for the water and food of your dog must be attached to the inside of the door and be refillable without needing to open the crate.
For domestic flights, the crate should have 2 sides that provide ventilation. For international flights, it should have 4 sides for ventilation.
Put green LIVE ANIMALS labels/tags on the sides and top. Letter size should be at least an inch. You also need to apply this way up directional labels/tags unless already clearly imprinted on the crate.
Any wheels must be removed or rendered inoperable.
The crate should have your name, address and contact information.
If the pet is over 60kg, the crate should have forklift spacers.
Petmate Sky Kennel
The Petmate Sky kennel is the best dog crate for air travel for most pets.
While the Petmate Sky Kennel is an airline approved dog kennel, it is not suitable for certain dog breeds that are considered to be aggressive or dangerous. The IATA lays out an enhanced set of crate requirements for such breeds under IATA CR 82, which requires a suitably stronger high security crate. See the IATA 82 section below for more info on how to purchase those crates.
Click here to buy the Petmate Sky Kennel on Amazon
While the Petmate Sky kennel dog crate is designed for airline travel, it is not necessarily ready out of the box for air travel. A number of airlines now require that the crate upper and lower half is securely fastened together with metal bolts. And that the crate door is secured to the crate with hand releasable cable ties.
The Petmate Sky Kennel comes with plastic bolts and no cable ties. However, these parts are inexpensive, and you can buy the bolts here (Amazon) and the cable ties here (Amazon). Even if the airline doesn't require them, they are worth purchasing and using for your own peace of mind.
The Petmate Sky Kennel does include a dog crate airline travel kit that contains other required essentials. The kit consists of dog identification stickers, "Live Animal" labels, food and water cups, and a spillage absorbent pad.
IATA CR 82 – Requirements For Dogs Classed As Aggressive / Dangerous
There is a special set of rules that go above and beyond standard IATA requirements. IATA CR 82 extends the airline approved dog crates requirements to addresses additional requirements for air travel with dogs that are often considered to be as aggressive or dangerous.
The Impact Case Stationary Dog Crate is a kennel that meets those requirements.
These requirements were developed in response to an actual airline incident where such a dog escaped from his crate. As such a special type of heavy duty dog crate for traveling with these dog breeds is required.
If you are intending to travel with one of these breeds of dog, you may want to learn more about IATA 82 dog crates.
Airlines That Allow Pets
There are many pet friendly airlines operating within the US. Here are a few of them:
Conclusion
Airline approved dog cages and carriers allow you to safely travel by air with your pet. Just remember to double-check the specs of the crate to ensure it is designed for air travel and you have any necessary accessories.
Also be sure to have checked the pet travel requirements of your airline, as they are free to set requirements beyond the IATA standard. Delta, for example, requires a minimum of 3 sides for ventilation openings on your kennel, while IATA guidelines only requires 2 doors for domestic flights.