We empathize with our pets and we consider them part of the family. But just like children, we can't spend every hour of every day with them. Sometimes we have to do our own thing, and they have to do theirs. That's where our best dog playpen reviews come in.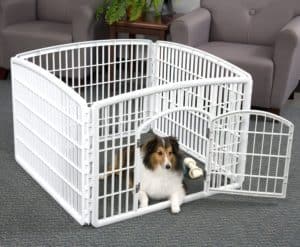 Unfortunately, unlike a cat, a dog can't just climb a fence and go someplace else when they get bored. And we don't want then trashing the place either.
So we have to give them their own designated space that provides them with the room to have fun and exercise in a controlled space. A good pet playpen is designed to do exactly that. It also offers the advantage of keeping them within a safe, allocated and confined space. With the best indoor dog playpen your pet has his own little playground to exercise and enjoy himself or herself.
Benefits
So why should you buy a playpen for dogs? Well why do we buy playpens for babies? Here are some compelling reasons to consider getting a dog or puppy play yard:
A dog pen is also called an exercise pen, and that's because they have plenty of space inside a playpen than they do in a regular crate. An appropriate sized dog crate offers just enough space for them to change their position. Playpens offer a lot more room so they can move around. You can get a small or a large dog playpen to suit you and your pet's needs. With this much space, they can get more exercise and opportunities to stretch their legs.
It's great to use as a way to train a puppy so they become well-behaved dogs. A puppy instinctively looks to feel safe and to feel amused. So they seek the presence of others. They want you, your kids, or other dogs around. They're intrigued by anything that moves. So you can offer a place that's safe for them, and at the same time you curb their instinct to explore and roam everywhere.
It's also a place where they can play around so you don't have to worry. We can't always be there for our pets no matter how much we may want that, so when we're at work, a dog playpen is a much better alternative than a small crate. That's so long as they have been suitably trained not to try to get out of of the dog enclosure provided by the pen of course. They don't get into trouble with outlets or find a way to chew on your shoes.
Factors to Consider
So what should you keep in mind when you're out shopping for the top dog playpens around? Here are some factors that should be considered top priority:
It all depends on the dog, as a bigger dog will need a bigger space. And don't think that a very small playpen will suffice for a puppy, as it will get bigger sooner than you think. In general, you want enough space for your dog to walk around and stretch. There should be space if you want to put in some bedding, while the toilet area should be far enough away from the bed area.
Again, this depends on what kind of dog you have. Really strong dogs may need tough materials, although if these big dogs are still too hyperactive you may want to get a large kennel instead. A playpen is designed for puppies or for more docile adults. But it shouldn't be too fragile that your dog can break it easily.
Make sure everything is smooth and there aren't any sharp edges that can hurt your pet.
Is it for outdoor use? If that's the case, then at the very least you need an outdoor dog playpen made with materials that can stand long under the elements. With metal parts you need to think about corrosion, while wood may not last as long when they get wet often. And while they may not come with a cover, you need to think about that too.
Is it for indoor use? If so, then you should make sure that the indoor dog playpen doesn't damage your nice floors. While most indoor dog pens don't come with their own flooring, you may want to put some mat or other floor covering material down.
Do you want to use it indoors and outdoors, or on vacation? This means it should be light in construction, while the assembly should be very easy. This shouldn't be a problem as there are a number of pens for dogs designed for indoor as well as outdoor use.
How much does it cost? Cost may be affected by factors such as the brand, construction, materials and size. You may want to consider your budget and needs to ensure you get the right one at the right cost for you.
So now that we have these factors to think about, let's consider several options to help select an ideal playpen to buy.
IRIS 4-Panel Pet Pen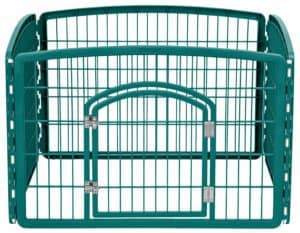 This 4 panel plastic dog playpen has the following features:
It measures 35 inches on each side, with a height of 23 inches. That makes it suitable for pups or for really small dogs. Why buy something bigger and pay more when you don't need the space? This offers about 8.5 square feet of space.
It can be modified by adding 2 extra panels if you need more space, plus you can also get a roof made especially for the 4-panel Iris.
It's made from commercial-grade plastic, and it can be used indoors or outdoors. But the latches and locks are all made of metal. There are no corrosion issues to worry about for outdoor use, while indoors it your flooring is protected by the non-skid rubber feet.
It's very easy to assemble, as you only need a few minutes at the most.
Since it's easy to assemble and light, you can easily bring it with you on vacation. It folds very easily and it's great for the beach.
It's made in the good ol' USA, so there are no quality control issues to fret over.
You have 10 color options to choose from.
Click here to buy it on Amazon or you can read our full IRIS 4 Panel Pet Pen Review.
IRIS 8-Panel Pet Pen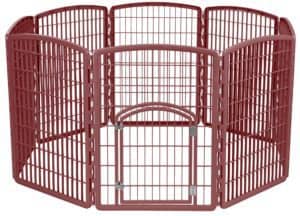 Iris also produces an 8-panel plastic dog playpen, and it looks great. Like the 4 panel version, you also have 10 colors to choose from.
Click here to buy it on Amazon
It measures 63 inches in diameter, and that offers more than 21 square feet of paling space.
It's also 34 inches high, and the top of each panel is slightly curved for a nice delicate look. For some reason, the curves at the top don't make it feel like a prison.
It comes with the standard Iris features, such as made from heavy-duty commercial grade plastic and has non-skid rubber feet. Like all Iris products, it's US-made.
If you still need more space, you can still put in 2 extra panels if desired.
Click here to buy it on Amazon or you can read our full IRIS 8 Panel Pet Pen Review.
Midwest Black E Coat Exercise Pen With Step Thru Door

This playpen for dogs offers an 8-sided enclosure and you have different heights to choose from.
The tallest Midwest exercise pen is at 48 inches while the shortest is just 24 inches. The 30-inch model is just right for 20-inch tall dogs.
Midwest are a renowned brand for pet products, producing both the popular Midwest iCrate pet crate and the Midwest Life Stages dog crate. Both of those are among the best dog crates in their class. So it is of no surprise that when it comes to looking fort the best puppy playpen, Midwest offer a strong contender.
Click here to buy it on Amazon
It's quite affordable
You get a lot more space, with about 16 square feet of real estate for leg stretching.
It's made of metal bars with black "E-coating". It's very sturdy even indoors.
When you use it outdoors, you can secure it with the 8 ground anchors include on the purchase. You can also top this with either a wire mesh top (for escape artists) or a sunscreen top.
There's no built in door in the standard black version. Instead, you can just clip 2 ends (the clips are also included) to make a door. But there's also a black model as well as a gold zinc model that comes with a door.
Setting this up is very easy. It's so easy that even 2 minutes may be too long! You don't need tools. You just clip each panel together.
It's nice for transport, as the panels all fold together flat.
You can also connect one of the sides to a crate, so the crate becomes the bed area and the playpen is exclusively for play.
Click here to buy it on Amazon or you can read our full Midwest Black E Coat Exercise Pen With Step Thru Door Review
BestPet Heavy Duty Pet Playpen Dog Exercise Pen Cat Fence B, 40-Inch, Black

This Bestpet Playpen is designed to provide a good space for dogs that are strong. It offers. Each of it's panels is 40″ High, 31″ Wide. You can configure it to have an octagon or rectangle layout. It';s easy to set up and has a single easy to open door. It is constructed with heavy duty 1/2″ metal tube frame which lends it a little more robustness than regular pens. It's an 8 panel set, consisting of 7 standard panels and 1 panel with gate, plus stakes.
While this pen will be sturdy for a heavier weight of dog than standard ones, of course you would not want to think of putting a large dog breed like a mastiff in there.
It's little wonder that it has attracted a lot of highly positive reviews. If you are looking for one of the best dog pens for large dogs, this is it.
Click here to buy it on Amazon
Usage Tips
So now that you have found the best pet dog playpen for you and your pet, how should you use it? Here are some tips to keep in mind:
Like with crate training, you want to ensure that your pet doesn't see their playpen as a prison! That's the first thing you need to remember. Never use it as a form of punishment when your dog's been naughty. If you do this, your pet is going to associate the playpen with something "bad". And he/she won't want to go into the playpen.
Instead, introduce it to your dog in much the same way as a good introduction to dog crate training. Start by putting them inside for just a few minutes at a time. You can start by being there while they're inside, and then after a while you can go to another room for a few minutes at a time. Eventually, they should stay there for longer periods.
You should leave them a toy they can play with inside. In fact, you may want to use the toy only when they're in the playpen.
In some cases, your dog may whine or even bark. It can be hard to ignore them when they give you that really abject look that makes us just want to give them what they want. But you have to ignore them until they learn that such tactics won't work.
Conclusion
So you have learned about the many advantages of buying the best indoor dog pen:
exercise your pet
keep them busy
give them a place to do something to do when you're not around
allow them more freedom than a crate – so long as they've been suitably trained
So good luck to you and to your dog, and hopefully you get the best pet exercise pen you can afford. Any of the 3 may suit you. It'll be worth your money, and you can rest easy at work knowing that your dog is much more comfortable when you're away.