Just like us dogs benefit well from exercise and entertainment. Naturally we can't be worth our pets all of the time, but that does not mean that your canine companion should be left in boredom in your absence. There are a fantastic range of toys to purchase for your pet that can help with crate training. In this article we select some of our choices of the best dog toys to give your dog some exercise and help keep him or her entertained and out of mischief.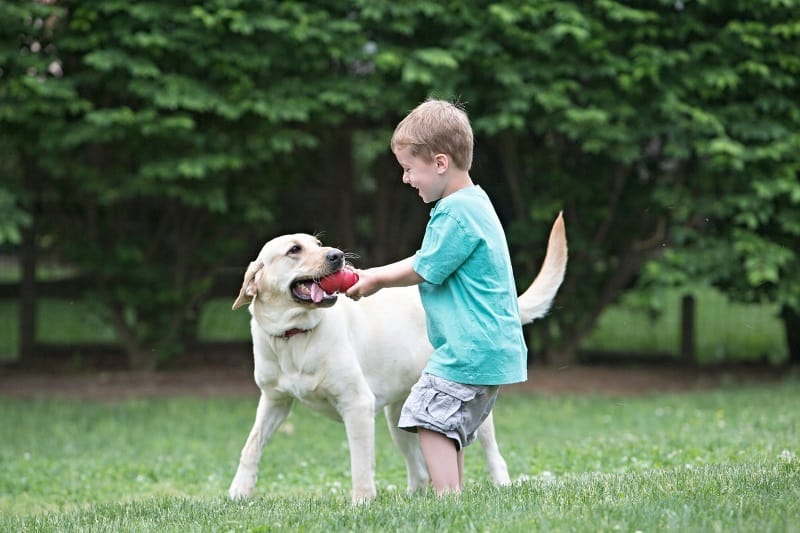 Benefits
Puppies and dogs that have not been housebroken can be very susceptible to getting up to mischief. The best toys for dogs also serve as a useful distraction to help with this issue, as rather than chew on your shoe, they can instead chew on a Kozy dog toy keep them busy. Let's look at some of the other benefits your canine gets from having dog toys.
Crate Training with Toys
Inside a dog crate, toys help your dog to forget that you've just left. They can instead of pining after you, get straight to work playing with the toys in their crate. Some of these toys are designed to place treats inside.
Having toys and treats inside the crate can help your dog learn that there are benefits to when you leave him in his crate.
Just be sure to remove the treat and perhaps also the toys when you return. This helps your dog learn that it is fun when you leave him alone in his crate, as he'll get rewarded and entertained with the opportunity to play with his dog crate toys and treats.
Fitness with Exercise Toys
As with humans, pets should get ample exercise. In fact one organization dedicated to ending pet obesity claims that up to 54% of dogs in 2016 were classed as overweight or obese. Keep your dog fit and health with dog toys for exercise and fitness. Some of these toys are designed for use by your pet alone. Others allow both you and your pet to bond together as you lead the activity and your pet excitedly awaits your move.
This needn't be costly, not that dog toys are expensive anyway, as you can have something as simple as a dog exercise ball toy. These are about the size of a tennis ball. Your pet will quickly get excited when you present the ball ready to throw it for him to fetch for you.
Keeping your dog well exercised also helps keep illnesses away that your dog may otherwise develop, and also helps prevent your dog from developing obesity and obesity related health conditions. Just like us, dogs too can develop diabetes and suffer from arthritis.
Interactive Dog Toys for Personal Bonding Or Keeping Your Dog Busy
There are a variety of interactive dog toys on the market, some of which involve you playing with your dog. Others are designed to behave or respond in a way that gets the dog's attention, curiosity and desire to play with the toy. They're great not just for physical exercise but also mental too.
Using interactive dog toys like the dog exercise toys mentioned above that require both you and your canine to take part helps increase the level of bonding with your dog. Dogs love to feel that they are pleasing their owner, and they love the challenge of quickly recovering a ball that you throw for them to fetch.
It's one of the simplest ways to learn how to bond with your dog if you've only recently taken ownership of your new pet, or have joined a home with one.
Toys from this category offer some of the best dog toys for your dog because of the level of personal bonding they offer and owner games with dogs are a lot of fun for canines that are so eager to please.
Other interactive toys are those that keep your pet busy with some sort of response that your pet will get from his or her actions. Some of these toys reward your dog with food or treats in response to your dog playing with the toy – usually by chewing it to force the treats out of an opening.
Or you have toys that move or bounce in a funny and unpredictable way when your dog plays with it, creating further excitement and fun for your pet.
There are also toys that make sounds or speak in response to action from your pet.
Lastly, there are puzzle toys that make your dog think and learn as part of the activity.
Puzzles For Intellectual Stimulation and Alertness
You can help stimulate your dogs cognitive abilities with the aid of dog puzzle toys. They are designed to give your dog problems to figure out. This can also help calm down an otherwise excitable dog as they find themselves trying to figure out the solution to the puzzle being posed to them by the toy. These are some of the best dog toys to keep them busy and out of mischief.
Dog Chew Toys For Dental Health and For Puppy Teething
Like us, dog teeth need looking after too. Dog oral hygiene is another topic, but dog chew toys are a good idea. They are an aid to healthy teeth and gums. They are a great way to allow your pet to exercise her jaws. And if they don't have their own toys, they may just chew your shoes instead!
They are also one of the best dog toys for teething puppies. They are able to satisfy their need to chew, while their teeth come through with these toys. Some of these toys are flavored to further encourage your pet to make use of the toy.
Comfort Toys To Make Your Pet feel Safe
When your pet is feeling a bit lonely or anxious they may really appreciate the comfort that having a soft toy can bring. Some dogs like them to keep with them, carry them around wherever they go.
For others, they treat the toys like prey and play quite aggressively with them. Just be sure that the toy is suitable for your pet. This is because some are designed only for small dogs or dogs that are not heavy duty chewers.
While not strictly speaking a toy, you may also give them some old clothes or other fabrics of yours like a blanket or towel. The scent of you is comforting to a dog, especially when you are away. And like a soft toy, they may like to carry it around with them. Be careful not to give him something that may be harmful if he destroys it.
Best Dog Toy – KONG Classic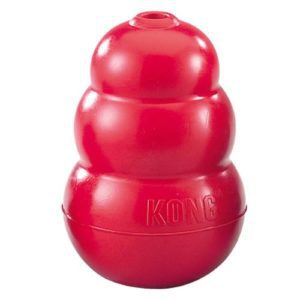 The Kong Classic Kong Dog Toy by the Kong company is one of the best dog toys to buy for your pet. It achieves most of the dog toy benefits mentioned above.
It is a chew toy, enabling your dog to exercise his jaws and satisfy his need to chew on things.
It is a treat dispensing toy. You can place treats inside that your dog will have to work out how to get out of the toy.
It is a bonding toy. You can throw it for your dog to chase. Because of the shape of the toy, it will have an unpredictable bounce, creating more fun and mayhem for you and your pet, as well as giving your pet exercise.
Great For Crate Training & Separation Anxiety Too
It's also great for crate training and dogs that experience separation anxiety, as it keeps your pet busy and occupied. Instead of your dog pining for you from the critical first 20 minutes after leaving her, the toy distracts her. It is crucial during a time when a separation anxiety prone dog's anxiety levels are at their highest to give them encouragement to focus on something positive. Playing with the toy and getting the treats out helps them learn to form a positive association with being in their crate.
This happens as a result of them getting busy playing with their Kong dog toy and trying to retrieve the wet and dry treats that you have placed inside for your pet, instead of standing there watching you leave.
Remove the treats when you return. If you do keep your pet in a dog crate, removal helps your pet form an association of being in the crate as a place where he receives rewards.
Where To Buy The Kong Toy
If you want to get this toy, you may like to first consult the Kong Size Chart. It explains all the different sizes and models. If you keep a large or powerful dog in a heavy duty dog crate, then you'll be pleased to know that there's a Kong for them too. It's called the Kong Extreme.
If you already know about sizes, then here are the links to buy:
Click Here To Shop For the Kong Classic Kong Dog Toy on Amazon
Click Here To Shop For Extreme Chewer Heavy Duty Version on Amazon
Click Here To Shop For Puppy Version on Amazon
Click Here To Shop For Senior Dog Version on Amazon
This toy by Kong is a product that has delighted many dog owners. Many buyers have felt moved to leave reviews in the thousands. The majority of reviews are highly positive.
Save Time Filling Your Kong with Kong Stuff'N Easy Treat
If you don't want to prepare your own KONG fillers, KONG have you covered.
First there is the KONG Stuff'N Easy Treat products.
The Easy Treat product is a tasty paste for lining the Kong dog toy before you go on to fill it with treats.
Then Kong also offer treats to fill the toy with too. There are two types:
Snacks – bite sized snacks
Ziggies – digestible teeth cleaning chew treats
So there's a solution if you don't want to spend the time preparing a filler yourself,.
https://www.youtube.com/watch?v=jpHj65tdMtw
Introducing the Kong Classic To Puppies And For First Time Kong Buyers
More of our pick of the best dog toys to keep your pet busy are coming soon. For now, the Kong dog toy one above is truly a must have.
Don't forget, there are several sizes and models available. So you may wish to first consult the Kong Size Chart to help you choose the right one.
Thanks for reading our article on great dog toys.