When it comes to traveling with powerful dogs that have a reputation fairly or not for being dangerous, aggressive or prone to fighting, you need to find a crate that goes beyond standard IATA airline approved dog kennel requirements. You will need to look at IATA 82 dog crates that meet more stringent security and build quality requirements to be able to fly with your pet.
Safety is critical when flying for passengers and pets alike. So for dog breeds that may make short work of a plastic crate, special crate requirements are in place. IATA CR 82 sets out specific additional requirements to the standard IATA requirements for a more strong, sturdy and robust dog crate to keep large, powerful and strong dogs secure. Let's look at what they are and help you buy an IATA 82 dog kennel for flying with your pet.
Impact Case Stationary Dog Crate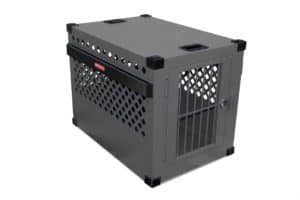 Pros
IATA CR82 Travel Compliant
Virtually Indestructible And Escape Proof
Lightweight & Portable
Strong aluminum metal build
Tough Welded Rivet Construction
Use at home – indoor and outdoor
Use for road as well as air travel
Cons
This is a crate that gets the job done for securely containing virtually all dogs. It's also a must if you like to travel a lot, being suitable for stringent IATA CR82 air travel requirements. It's also lightweight for portability.
In the past there were incidents where dogs flying as cargo escaped from their crate/kennel by chewing the sides or bars of the crate or played Houdini. As a result, the things inside the cargo hold and even the inside of the plane were damaged. This is a situation that puts the plane and lives of the passengers in danger.
With many people confined in a small space up in the air, the last thing that's needed is an excitable, or worse a confused, anxious or angry dog on the loose, to put the airplane and passenger safety at risk.
It is for these reasons that the International Air Transport Association (IATA) has imposed the requirement of the use of an IATA 82 dog crate. Also known as the IATA Container Requirement #82 or CR 82, these stipulate the requirements for a form of heavy duty dog crate that also meets common airline requirements.
Dog Breeds That Fall Under the CR 82 Crate Requirements
The IATA considers the following breeds to be strong and powerful or aggressive, or fighting breeds that may pose a risk. As such you will require a crate that meets CR 82 requirements when flying with these breeds:
American Bully
American Pit Bull Terrier
American Staffordshire Terrier (Amstaff)
Anatolian Shepherd (Karabash)
Argentine Mastiff (Dogo Argentino)
Brazilian Mastiff (Fila Brasileiro)
Bull Terrier
Bull Mastiff (Silverback Mastiff/Mallorquin Mastiff/Ca de Bou)
Canary Mastiff (Perro de Presa Canario)
Caucasian Mastiff (Caucasian Ovcharka)
Italian Mastiff (Cane Corso)
Japanese Mastiff (Tosa Ken)
Rottweiler
Staffordshire Bull Terrier
This list is not necessarily exhaustive. Airlines may also have their own additional list of dog breeds that they classify as aggressive and/or dangerous, and are therefore subject to the airline's specific requirements.
Pitbull Friendly Airlines
Please make sure to check with your airline for requirements for flying with your breed of dog prior to your travel date. Many do publish a website page on the topic, for example American Airlines do. You will otherwise want to contact them by other means, if this information is not readily available online. While there are a few pitbull friendly airlines, some have policies not to carry this breed or other breeds that fall under the CR 82 requirements.
Airline Approved vs IATA 82 Dog Crates
Many airline approved dog crate requirements allow for the use of rigid plastic materials for dog crates. This is generally fine for most dogs. But over the years it was found to be unsuitable for securely containing breeds often considered to be aggressive or fighting breeds like pit bulls and mastiffs, as more and more crate failure incidents occurred.
Specially re-enforced crates have been used for many years in the transport of wild animals, including bears, tigers and lions, but it had been assumed that this was unnecessary to secure domestic canines. In July 2002, a pitbull aboard American Airlines Flight 282 escaped his kennel and chewed a hole on the inside of the plane as well as chewing through several wires. It was because of this that American Airlines banned adult pitbulls, along with Doberman Pinschers and Rottweilers from flights.
Despite that famous 2002 incident, it was only in 2012 that the IATA decided that fighting/aggressive breeds of dog can no longer safely be transported in a regular air travel crate, and now required re-enforced crates for the safety of the animals, as well as passengers and staff.
There has been a negative reaction among dog owners of such breeds, because it seemed like these breeds were being unfairly stereotyped. Regardless, having a common standard allows airlines that may have blacklisted certain breeds previously, to now accept them, so long, so long as IATA 82 dog crates are used to contain their pet.
IATA CR 82 Requirements
According to IATA rules, the crate needs to be constructed of metal, synthetic, wire mesh, weld mesh or wood. Absolutely no portion of it should be plastic. The door of the crate should be wide of heavy metal, wire mesh or reinforced wood. It should also be equipped with a secure means of fastening that is impossible to open accidentally.
Important Considerations When Buying An IATA Dog Kennel
It can be pretty hard to fly to another city, state or country without your beloved dog. But sadly, even if you have the sweetest pitbull who can't even hurt a mouse, your dog can will only be allowed to board the plane if you have a kennel that meets the CR 82 requirements. Rules are rules.
Before you start looking at IATA 82 dog crates, you need to know the size of your dog. This enabled you to get the correct dimensions for the crate. To do this, let your dog stand on all fours. Measure the tip of his nose to the base of his tail, and then add 2-4 inches.
This will be the LENGTH requirement of the crate. Then let your dog sit down. Measure the distance from the top of his nose (or head) to the floor. Then add 2-4 inches. This will be the HEIGHT requirement of the crate.

Do remember also that IATA 82 is merely a common agreed set of kennel requirements. The individual airlines are free to impose more stringent requirements and a number of them do so. So do check the airlines requirements before flying.
Also just having what may be described as an IATA 82 crate is not enough. The crate may require the purchase of some additional accessories to make it fully IATA live animals regulations compliant.
In addition to the crate itself, you will need to ensure your crate has the following:
Absorbent pad lining the floor to prevent leaks.
Bowls for water and food attached to the inside of the door and refillable without needing to open the crate.
Green LIVE ANIMALS labels/tags on the sides and top. Letter size should be at least an inch. If not already provided for on the labels/tags or otherwise clearly imprinted on the crate, you also need to apply "This Way up" directional labels/tags.
The crate should have your name, address and contact information on it.
Sometimes these essentials can be purchased ready packaged as a pet airline travel kit (like these). They provide you with the essentials to help make flying with your pet safe, comfortable and secure.
Flying should be smooth and hassle-free, so you can fully enjoy your trip. Plan for it and check out available IATA 82 dog crates ahead of time. We highly recommend the Impact Case Stationary Dog Crate that we have reviewed alongside its collapsible counterpart.
Can I use a Collapsible Crate?
No. While they are great for portability and storage when not in use, collapsible crates do not meet IATA CR 82 requirements. If you see any claims otherwise, ignore them.
If you buy a crate that is collapsible and it is discovered by the airline to be collapsible, then the airline may refuse to allow your pet to board the flight. As these crates are not cheap, the money spent and inconvenience of refusal to board is not worth the risk of taking your chances. Buy a stationary.
Where to Buy An IATA 82 Dog Crate?
There are companies that can create and customize dog crates to suit the needs of your pet. Some of these crate or kennel makers build crates to the requirements for IATA CR 82. Often, these kennels can take 2-3 weeks to make depending on the size, material and maker you choose.
However, if you're flying in a week, then obviously, a custom crate is out of the question. And that's fine as ready made crates are available in large pet stores, or you can also purchase them online. These crates are the most expensive kind you can find due to the solid construction and materials used.
They typically cost around $600-$1000 on average but they can easily cost more than that especially if you get a custom crate for your dog. The good news is we have identified one that we feel is the best heavy duty escape proof dog crate for air travel. And it's usually easy to get from Amazon. The Impact Case Stationary Dog Crate is not only suitable for air travel with your pet, it is also lightweight and portable,
You can use it to replace whatever heavy duty escape proof dog crate you may or may not be using right now at home. For all these reasons, we consider this IATA 82 dog crate to be one of the best dog crates in its class.
Impact Case Stationary Dog Crate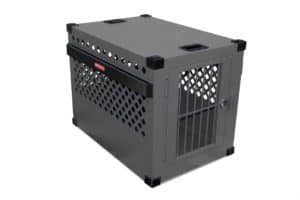 Pros
IATA CR82 Travel Compliant
Virtually Indestructible And Escape Proof
Lightweight & Portable
Strong aluminum metal build
Tough Welded Rivet Construction
Use at home – indoor and outdoor
Use for road as well as air travel
Cons
This is a crate that gets the job done for securely containing virtually all dogs. It's also a must if you like to travel a lot, being suitable for stringent IATA CR82 air travel requirements. It's also lightweight for portability.
Is There A Rental Service For These Crates?
The cost to buy one of these crates is not cheap. This can be easily overlooked if you intended to also use it permanently as your dog's new crate, or if you would be a frequent traveler by road or air with your pet. But if you only require it for a single one-way or return journey, it can make the associated travel costs very expensive.
Unfortunately, we do not know of any businesses at this time that provide an IATA CR 82 dog crate rental service. An alternative option to save a bit of money over buying  a new crate, is to look to purchase a used crate. You can try eBay for that, as well as local classifieds and dog kennel or community clubs.
Of course if you do look for a used one, be sure to do your due diligence to ensure that the crate is still robust and in good condition. Ideally you'd want to find one where the owner only purchased and used it for one or two flights. It's even better if you can find someone local, so you can have the opportunity to personally inspect it before handing over any money.
Alternatively, if you are traveling cross-country rather than internationally, it may in some circumstances be a cheaper alternative to look into rail or road travel options so that you do not need to invest heavily into a crate that you may hardly use again.