Impact Dog Crate Review – Impact Case Collapsible, Stationary, & Anxiety Dog Crates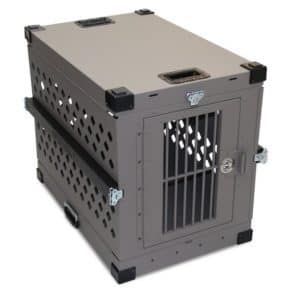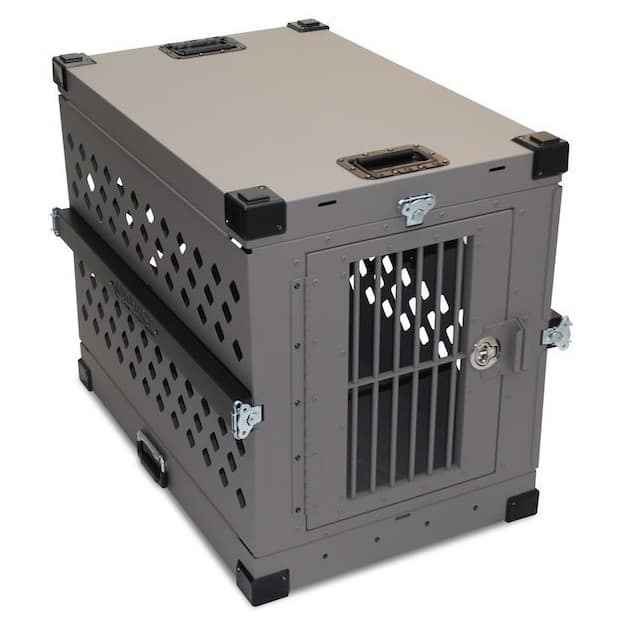 For dog owners looking for a secure, robust, high end heavy duty dog crate to secure your pet. One of our recommendations of the best dog kennels are the Impact Case Stationary Dog Crate and it's portable and more popular counterpart, the Impact Case Collapsible Dog Crate by Impact Case and Container. In this Impact Case Dog Crate review, we take a look at these virtually indestructible and inescapable dog crates and let you know what they have to offer.
As you probably already know – perhaps through experience, wire crates are great for young puppies and housebroken adult dogs, but not for escape artist or powerful dogs. They want out, and whether they're a Houdini or gorilla, they're going to find a way out of weak regular crates. For these we need a heavy duty dog crate. A crate that is strong, sturdy, and secure to prevent destruction and escape.
Impact Case Collapsible Dog Crate
Pros
Virtually Indestructible And Escape Proof
Lightweight & Portable
Collaspible – Save Space
IATA CR82 Travel Compliant
Cons
This is a crate that gets the job done for securely containing virtually all dogs. It's also a must if you like to travel a lot, being suitable for stringent IATA CR82 air travel requirements. It's also lightweight for portability and collapsible for space saving.
The Impact Dog Crates are made by Impact Case & Container from where the crate name derives. You may have also seen them under the brand name Kennect Pet, which is a brand name Impact Case have decided to retire.
The high end dog collapsible and stationary crates come with a number of features that will be welcomed by dog owners looking for crate portability, space saving, or the possibility of pet travel.
Difference Between Impact Case Collapsible Dog Crate And Impact Case Stationary Dog Crate – Which One Should You Choose?
The main difference between the Impact Case Collapsible Dog Crate And Impact Case Stationary Dog Crate like the name suggests is whether your primary need is for a crate that can be collapsed and easily moved or stored. Or whether you want a crate with a solid frame.
That's not to say that the collapsible crate is weak, as the fold in the sides  are reinforced by metal bars when the cage is set up.
If you hate having to put stuff together, or if you'd like space and portability, then the collapsible one is the one to choose. However, it costs significantly more money than the stationary crate for this convenience.
Do You Need To Recover Storage Space When The Crate Is Not In Use?
If having a full size dog crate permanently erected is an issue, when the crate is not required for full time use, or if it's main use is going to be for pet travel, and you would rather recover the space in-between journeys with your pet, then the collapsible dog crate solves that problem.
It is designed to fold down into a briefcase style shape to save space when not in use. However, this benefit means that the crate is technically slightly weaker than its stationary counterpart. This is due to the collapsible sections on the center of the left and right sides of the crate.
That said, we said technically, because these are not easy to exploit weak points. This is because the collapsible sections on both sides of the crate will be robustly reinforced with metal bars that you'll securely latch over them when you set the crate up.
These bars are not just there for reinforcement however. They also serve as airline rails, helping the crate to meet the IATA requirements for pet air travel if you may also need to fly with your pet.
Another advantage over the stationary crate is ease of set up. The collapsible crate is pretty much already constructed. You just need to lift up the collapsible sides, then lift the doors, then reinforce the sides with the included metal bars.
Why The Stationary Dog Crate?
If having a full size dog crate permanently erected does not create a space issue for you and you have no need for pet travel, then the stationary crate is the better choice.
It is arguably stronger than the collapsible dog crate due to having solid metal sides, rather than foldable sides. However the foldable sides on the collapsible case are reinforced by  with metal bars as part of the collapsible dog crate setup.
These metal bars also serve as airline rails to help make the crate compliant with IATA requirements for pet crates for air travel. You will also get them with the stationary crate.
With the stationary model, you'll need to screw various bits together.
And as its build is of a more straightforward design due to lacking the collapsible features, it tends to be a bit cheaper too. Which is great if you are looking to get one of the most highly effective crates, are willing to pay for that extra security, but are also budget sensitive.
Click here to buy the stationary crate on Amazon.
The clean, no nonsense design of both Impact cages is aimed to ensure your dog stays safe and stays secure. The look and design of both crates is the same aside from the collapsible features built into the Impact Case Collapsible Dog Crate.
So let's take a closer look at what these crates have to offer and why they are recommended over many over crates in the heavy duty escape proof dog crate category.
Security, Safety & Impact Dog Crate – A Common Crate Problem Solved
Impact Case Collapsible Dog Crate – Large (Gray) for travel and outdoors.
One of the biggest issues when it comes to large and/or powerful dogs is the determination of some of them not to be left in a crate. If the cage is too weak or not very secure, your Houdini dog will escape the crate by force or by cunning and persistence.
Of course your dog should not be left alone locked in a crate anyway without undergoing crate training. Lack of crate training tends to create feelings of anxiety and abandonment for your pet.
While you may want an Alcatraz dog crate for your pet, your pet needs to feel comfortable, not anxious when they are secured in their crate. A design that helps them avoid causing harm to his or her self is a good consideration.
The design of this escape proof dog crate has safety and security in mind. There are no bars wide enough on this Impact dog crate for your dog to try to get his/her teeth or paws around.
The problem with many heavy duty crates lies with the bar design. Not a problem with this crate, it'll be a lot more difficult for your pet to wrap teeth around the thin bars on this cage.
The Problem With Other Heavy Duty Dog Crates
A determined dog that can grip and pull at bars may also be powerful enough to bend or worse break away the bars if the cage isn't strong enough.
The lack of bars in the impact dog crate removes what for some cages is a serious vulnerability through which a powerful and determined dog can find a means of escape.
However that is not to say bar crates don't work. A large number of buyers found the ProSelect Empire heavy duty dog crate to be perfectly adequate for example.
With some other crates your dog wouldn't even need to go to that much effort to get out, as they are locked with latches that are within the reach of a smart dog's paws, who will quickly learn how the crate is opened and stick their paws through the bars, release the latch and get out.
Neither scenario is a possibility with the Impact Case Collapsible Dog Crate available in large and extra large sizes. Its neat and compact box design has holes in the sides and rear of the crate with a flat top and bottom. The front of the cage does have bars but they are so narrow that your dog will not be wrapping their jaws or their paws around them.
So the case is well ventilated and its more sheltered design with rounded square vent holes around the rear and sides may also help your dog feel more relaxed like she or he is in a private den, but having the feel that they still have a direct line of sight.
Portability – Bonus Feature #1
While we're busy bestowing all those virtues of this crate, one other fantastic feature that is lacking from most heavy duty crates hasn't even been talked about yet – this large collapsible dog crate by Impact Case and Container is fully portable due to its ability to collapse.
As such, it is great for travel or simply letting your dog get some fresh air outside while keeping him or her contained and out of mischief.
How so? Well the Impact kennel is collapsible to make it very easy to move from one place to the next.
This means that if you want to take your dog on the road inside their cage, you can very easily and quickly collapse the crate inside your home, and quickly and easily re-erect it inside your vehicle.
It can be quickly and tidily broken down into a briefcase or suitcase like design that is only eight inches tall and includes a carry handle.
So no need to worry about having a crate permanently fixed in one place, taking up valuable space when not in use, nor wishing you could keep your dog securely crated while driving with your pet.
Heavy Duty Airline Travel Crate, IATA Compliant – Bonus Feature #2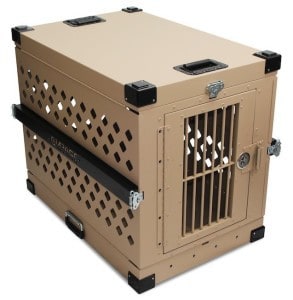 Yes you read that right, this crate is suitable for flying with your pet. The Impact Case dog crate is IATA compliant and comes with airline rails.
If you are not familiar with what this is, many airlines have requirements for traveling with your pet.
In the case of large, powerful or aggressive dog breeds, IATA sets a level of additional requirements that are even more stringent. This is known as IATA 82. The Impact crate is an IATA 82 Dog Crate, as it meets those requirements. If you're looking for a pitbull dog crate, this is it.
So you can not only easily take your pet with you while driving, but you can easily take her with you on flight trips too.
However do check your airlines requirements before you book your ticket, as your airline may have set their own additional requirements on top of those required by IATA.
Construction of the Impact Case Collapsible Dog Crate
The Impact Case Collapsible Dog Crate is made using high quality .063 light weight, corrosion resistant, yet heavy duty aluminum. This makes for a strong, sturdy, robust crate that at 41lbs is also 20% lighter than some comparable crates.
It also has a marine grade slim latch and hardware. This ensures your pet is not getting out until you let him out. The latch automatically locks into place giving you a hassle free close.
The crates large vent holes and front door design ensure adequate airflow to the crate. The cage's tan powder coated finish on the inside and outside also helps to reflect heat away from your pet.
It also has composite corners that provide impact protection. And if you have more than one dog that you would like to secure, well this crate is designed to be stackable, so you can buy two and secure both of your pets side by side or in a stack.
The front of the cage employs 3/8 inch round bars welded with a cross bar for security and stability. The crates by Impact Case come in several different sizes as follows:
Dimensions of the Impact Case Collapsible Dog Crate
Medium crate:
Exterior Dimensions: 31″L X 20″W X 22″H (this includes the airline rails and stacking corners)
Interior Dimensions: 30″L x 18″W x 21″H
Door: 19.8″H x 14.8″W
Collapsed Dimensions: : 30″L x 19″W x 8″H
Large crate:
Exterior Dimensions: 35″L x 25″W x 29″H (this includes the airline rails and stacking corners)
Interior Dimensions: 34″L x 22″W x 28″H
Door: 19.8″H x 14.8″W
Collapsed Dimensions: 35″L x 25″W x 7.5″ H
Impact Case Collapsible Dog Crate X-Large:
Exterior Dimensions: 41″L x 25″W x 29″H (this includes the airline rails and stacking corners)
Interior Dimensions: 40″L x 22″W x 28″H
Door: 19.8″H x 14.8″W
Collapsed Dimensions: 41″L x 25″W x 7.5″H
Where To Buy The Impact Case And Container Dog Crate?
Shop Now for the Impact Case Collapsible Dog Crate on Amazon:
[/su_box]
If you want one of the best dog crates in its class, this Impact Case And Container Dog Crate is it. Impact Case have designed a tough aluminum heavy duty dog crate, that is also lightweight, portable, and suitable for travel. And that concludes our Impact Case dog crate review, thanks for reading.
How To Set Up / Install The Impact Case Collapsible Dog Crate