When you have a puppy or small breed of dog, one of the best products you can buy for them and yourself is a playpen. They get some space where they can exercise, and you get to keep them secure in one place.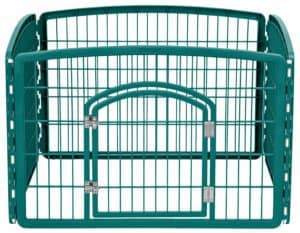 That is provided that they have already been crate trained of course. The IRIS 4 Panel Pet Pen is one of the most in demand playpens for this purpose.
Click here to shop for it on Amazon
Features And Benefits
But why should you pick this one you may be wondering? Well it's one of our best dog playpen selections. Let's take a look at its features and benefits to find out why that is.
The IRIS Pet Pen Is Affordable
The IRIS 4-panel is pretty pen made of plastic. As the materials used are not too expensive, so too is the IRIS pet pen affordable to you. There are a number of dog crates that cost more. So it's a smart investment that is easy on the pocket.
But a closer look at the features seems to indicate that just because it's affordable doesn't mean it's poor quality. On the contrary, it actually offers a lot of value for money.
The IRIS Dog Playpen Looks Great
You can choose from a range of colors, from pearl white to dark gray (with red, blue, chrome, brown, and turquoise in between). Each screen wall has a gentle arch on top, while the front panel has a nice wide door. It looks like a nice fence instead of a cage.
The IRIS dog playpen looks great indoors and well as outdoors in the yard. And since it's made from plastic, it won't suffer from any corrosion or rust problems.
IRIS Puppy Pen Is Big Enough For A Pup or a Small Dog Breed
It measures 35 inches for each side and the panels are 23 inches high. So that's basically 8 square feet of space. It doesn't take up a lot of space in your house (or in your yard), yet it's plenty enough space for a pup or a small dog.
The IRIS puppy pen is large enough to allow your pet to exercise without getting up to mischief by running amok in your home. Since it's open at the top, you can also reach in easily to hand over food, treats, and toys to your pups. If your pet is a jumper, there is an optional top that can be purchased to cover over the top of the pen to keep them put.
You can easily add a bit more space if the pen isn't large enough simply by purchasing a 2-piece panel add-on pack to create a larger enclosure. Some people are more ambitious and will get another 4-panel enclosure and combine the two together to get a much larger space, but this is not the intended use of the manufacturer.
It's Very Sturdy
Some dogs may try to bump into fences, but this playpen is designed for such contact. The fence won't shake or fall down. It's made from heavy duty plastic so it's really robust, so long as your pet is not deliberately trying to break out.
Or as opposed to breaking out, some dogs try to climb or jump out. The 2-foot fence around them may not be high enough for them. If that's the case, you can purchase the optional mesh security roof to keep your pet securely inside. It also provides gentle reinforcement to help the playpen keep its square shape when it's bumped into by your puppies.
IRIS Playpen Is Easy to Assemble
It's actually all a matter of lining up the latches and hinges with the predrilled holes on the fence panels. Then all you need is a screwdriver to put in the screws to secure these latches and hinges. That's it!
It's Light and Portable
The IRIS playpen weighs only about 13 pounds, and it folds flat. So you can just fold it up like cardboard and place it in the trunk of your car if you're going to the park. Its portability means you can go on vacations and camping trips with your pet and be able to contain them in the playpen where they can be safe.
It's Safe
The playpen doesn't have any sharp edges and pointy parts that can hurt your dog (or hurt you for that matter when you handle the playpen). Everything is nice and smooth.
IRIS Pet Playpen Is Made in the USA
It's not really about patriotism when you like American-made products. It's about quality control. Consumer goods made in the US tend to follow stringent rules regarding the quality of a product. In some areas around the world, however, workers are less concerned about quality and many of them don't get sufficient training.
Consumer Impressions
If you go online, you'll find that most reviews written about the IRIS 4-panel playpen are quite generous in their praise. Many find its cost attractive, and the look of the playpen also gets lots of compliments. People are also on the whole relieved that they don't need a degree in mechanical engineering to put this whole thing together.
Some like the IRIS pet pen so much that they bring it along with them for vacations with the family pooch. They also like the fact that it's expandable with the optional 2 panel add-on pack, so there's really no good reason to complain about inadequate space.
The main problem, however, is that it's only suitable for pups, small dogs or other similarly sized pets. It's not meant for larger dogs or brawny bruisers who can just push the fence around like it's not there. But there is an alternative IRIS 8 Panel Pet Pen to consider, as well as other brand that sells pens such as the Midwest Black E Coat Exercise Pen With Step Thru Door.
Conclusion
This playpen is great but you need to make sure it can accommodate the size of your pet. You'll need a different playpen if you're looking for a pen suitable for a larger dog. The IRIS 4-panel playpen is meant for small dogs and puppies. For them it works just fine, and for owners, you'll love the piece of mind you'll get from using the crate, and also the pleasant design of the pen.