If you want to get your dog a nice exercise pen that you can use indoors or outdoors the Midwest Black E Coat Exercise Pen With Step Thru Door is worth considering.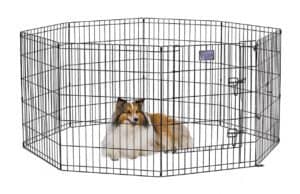 Midwest are one of the most renowned manufacturers of dog crates and pens. They consistently rank well against similar competing products in their category.
It is therefore of no surprise that this Midwest Exercise Pen, which also comes in a gold-zinc finish version or a black e-coat version without a door is a highly popular choice. The Midwest exercise pen also features in our featured Best Dog Playpen Reviews.
In a hurry? Click here to buy it on Amazon.
Versions


There are three versions of the pen:
Midwest Black E Coat Exercise Pen With Step Thru Door
Midwest Black E Coat Exercise Pen Without Door
Midwest Gold Zinc Pet Exercise Pen
Sizes
The sizes available for the MidWest Exercise Pen range from 24 inches to 48 inches in height. Your ideal choice depends on how big your dog is.
Unlike with crates, it doesn't matter if you get a larger pen than that recommended for your pet's size. But of course as the pen is for exercise, there is a minimum required size for your pet.
Here's what size you need to get for your pet:
| Dog Weight | Pen Height |
| --- | --- |
| 11 - 25 lbs | 24"H (Eight 24" wide panels) |
| 26 - 40 lbs | 30"H (Eight 24" wide panels) |
| 41 - 70 lbs | 36"H (Eight 24" wide panels) |
| 71 - 90 lbs | 42"H (Eight 24" wide panels) |
| 91 - 110 lbs | 48"H (Eight 24" wide panels) |
Features And Benefits
So why is the MidWest Exercise Pen so popular? In order to answer this question, we need a closer look at the various features and advantages it offers.
It's Affordable
You don't have to bust your budget to buy an exercise pen, and this Midwest model proves that point admirably. The enclosure is quite reasonably priced in our opinion. Especially consider that some dog crates cost more to purchase than this pen does.
Of course, its bestseller status isn't just due to its price. It's also about what you get for the money you spend. And of course a strong brand like Midwest helps some buyers too. So let's look at some of the features and benefits that make this pen so great.

It's Easy to Assemble

Some people have trouble putting together an Ikea chair. The Midwest pen comfortably quick and easy to put together.
There's no need for a screwdriver to put this thing together. You just have to unfold the panels and then clip them together with the included clips.
The pen can be built into a square or round shape as desired.
It Offers a Lot of Space
It's an exercise pen, allowing your pet to have a designed safe and ample space to move and stretch their legs (so to speak). The Midwest pen has 8 pieces of mesh panels that measure 2 feet wide. When you attach them together to form an octagon, the enclosure occupies a floor area of about 16 square feet. That's enough floor space for even several small dogs.
Inside, they can walk around easily and even run for a short bit. You can also put in some toys, as well as food and water bowls.
Suitable For Indoor Use
If you have enough space indoors, then you can set up this crate inside your home. The black finish looks nice enough or you can choose the gold-zinc version if that color suits you better. If you're dog gets anxious when left alone, why not set it up in a room where you'll be working or spending some downtime, so that you and your dog can see each other?
Suitable For Outdoor Use
This exercise pen is suitable for outdoors too. The e-coating on the metal panels (or gold-zinc finish on the gold colored version) offers effective protection against the rain and the sunlight.
There are even ground stakes that you can attach to each panel so that the panels stay firmly in place if you are setting this pen up on your lawn. Your pet can bump into the panels all they want, and the stake secured and reinforced enclosure won't lose its shape.
Click here to buy it on Amazon
Storage and Vacation Use

Storage of the Midwest pen is really easy. In fact, you don't need to detach the snaps that hold the panels together and break it all down. You can simply lift it up and fold the panels flat against each other. Then you can store it in a cabinet or by the wall.
It's this fold-out storage design that also makes it easy to bring with you on vacation, or even for just a visit to your park. It can easily fit inside your trunk, and it only weighs about 21 pounds or so.
Durability
The panels are very well built, and it seems obvious that they're going to last for a very long while. Even the joints, which on some other models are traditionally the weak spots, are also quite sturdy.
The coating also really withstands the sunlight and the rain. But if you want, you can just put it inside when you're dog isn't using it—just to be on the safe side.
Safety
The Midwest is quite safe for pooches, as there aren't any sharp or pouty parts that can injure a dog. Even the rambunctious ones shouldn't get hurt at all. The spaces between the mesh wires are small enough so that your dog won't be able to squeeze their head through.
Step-Thru Door Provides Convenience and Security

The step-through door provides easy and convenient entrance and exit for you and your dog. This is especially convenient for you when it comes to time to refill the water bowls.
It's far better to walk through a door than to have to detach, pull apart and then reattach the fence sections of the pen. The door is secured with two slide-bolt latches.
Click here to buy it on Amazon
Connects To The Midwest Life Stages Dog Crate and Midwest iCrate Dog Crate

Here's a nice little bonus feature if you own the Midwest Life Stages dog crate or the Midwest iCrate dog crate. The Midwest Exercise pen is designed to work with and compliment these crates.
Simply align the pen around the door on the shortest side of the crate. This keeps your dog secure and allows him or her to move freely between pen and crate as desired.
If you are training a puppy, these are two of the best dog crates that you can buy.
Accessories To Block Strong Sunlight And Prevent Fence Jumping

You can also get additional accessories for the pen. One popular accessory is the wire mesh top.
Its purpose is to secure dogs that like to see the fence as a challenge to their escaping abilities. It serves as a deterrent to prevent the jumpers from trying to jump, as there's now a ceiling in the way.
One snag about it however is that it is 4 x 4 ft square. So you can only use it with the pen configured in a matching 4 x 4 foot square formation, not a round shape.

There is also a sunscreen top available so that your dog gets a nice comfy cool shade away from the harsh sunlight.
The sunscreen blocks 80% of sunlight, and is UV resistant. It comes with No.2 Brass grommets 12″ apart and 18 plastic wire ties.
Like with the wire top, a small snag if you prefer a round pen layout is that the sunscreen is 4 x 4 ft square. So you can only use it with the pen set up as a matching 4 x 4 foot square.
While the pen is supplied with a set of stakes, if you should manage to lose or need to replace them, you can also purchase a pack of 8 stakes.
Buyer Views
The vast majority of the people who purchase the Midwest Black E Coat Exercise Pen With Step Thru Door love it. They report how happy their pets are inside the pen, and that makes the owners happy too. Of course, their happiness is boosted by the the easy assembly and durable quality of the material.
Of course, the main problem is using the wrong size for the wrong pets. So you will want to make sure that you have measured up correctly for your pet. Fortunately, unlike with dog crates, which need to be a specific size in relation to your dog for training purposes, bigger is definitely better for dogs when it comes to pens.
Conclusion
Taken all together, it's fairly obvious why the Midwest Black E Coat Exercise Pen With Step Thru Door is a popular choice and has achieved a great volume of mostly positive reviews. Midwest match affordability with quality in this pen.