Welcome to our Midwest iCrate Pet Crates for Dogs Review. We will be looking at the features and benefits of this bestselling range of dog cages.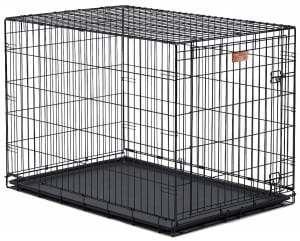 The Midwest iCrate dog crate is among the best dog crates on the market right now, designed for the safety, security and comfort of your pet. It's particularly desired for training puppies as they grow into an adult dog.
The manufacturer, Midwest Homes For Pets have been an established player in the pet containment market for years, with a 90 year history and division of Mid-west Metal Products. So this is no fly-by-night company that doesn't know much about pets. They also manufacture some of the best dog playpens for exercising your pet in safe space too.
If you are in a hurry click here to buy it on Amazon.
Features and Benefits
Single Door – only one way for your dog to get in and out of the crate. Keeps things simple.
Easy set up – literally these crates can be set up in seconds rather than minutes by anyone, and do not require any tools to do so.
Rounded corners for your pet's protection – sharp corners are always dangerous, Midwest have thought about this and have made this crate's corners round for your dog's safety.
Fold and Carry Configuration – If you need to relocate the crate, this enables you to do so with ease, simply fold the crate down just as quickly as you set it up, into a convenient suitcase size configuration and then you can easily carry it by hand to wherever you need it to be via its detachable carry handles!
Divider Panel – This is a must for pups that haven't yet grown into a full size adult as it enabled you to section off excess length of your cage, ensuring your pet has just the right amount of space that he needs. Too much space can lead to problems. And as he continues to grow, you continue to adjust the divider's position until you no longer need it.
Composite plastic slide out Pan – Easy to wash after accidental spillages or toilet accidents, and better quality than an all plastic pan. Easy to access too as they simply slide out. You'll also be pleased to know that should you want or need a spare pan, they are available too.
Safe and secure slide bolt latch  – keeps your dog inside the cage, there will be no crafty unlocking manoeuvres going on here.
Attractive, durable satin-black Electro-Coat finish – helps make the crate look more like a piece of furniture in your home.
1 year warranty for peace of mind.
Can also be used with the Midwest Exercise Pen
What Crate Sizes Are Available?
This is simple; you go for the length of crate that most closely matches the full length of your dog, or what is expected to be the full length of your dog once your puppy is fully grown into his or her adult size. The crate comes with a divider to section of the cage to the right size while your puppy grows.
The Midwest iCrate Double Door (models with DD suffix) and Single Door crates are available in the following seven sizes:
| Size | Models (DD = Double Door) | Suitable For |
| --- | --- | --- |
| 18L x 12W x 14H inches | Midwest 1518 & 1518DD | Dogs up to 6 lbs |
| 22L x 13W x 16H Inches | Midwest 1522 & 1522DD | Dogs up to 10 lbs |
| 24L x 18W x 19H Inches | Midwest 1524 & 1524DD | Dogs 11-25 lbs |
| 30L x 19W x 21H Inches | Midwest 1530 & 1530DD | Dogs 26 – 40 lbs |
| 36L x 23W x 25H Inches | Midwest 1536 & 1536DD | Dogs 41 – 70 lbs |
| 42L x 30W x 28H Inches | Midwest 1542 & 1542DD | Dogs 71 – 90 lbs |
| 48L x 30W x 33H Inches | Midwest 1548 & 1548DD | Dogs 91 – 110 lbs |
CLICK HERE TO SHOP FOR THIS CRATE ON AMAZON
Bear in mind that your dog will need to have enough room to comfortably stand upright and turn around in, so do allow a few extra inches on top of your adult dog's actual or puppy's predicted adult size measurements.
If you would like to provide an enclosed secure space for your puppy to exercise in, you may also like to consider buying the Midwest Exercise Pen that compliments the crate.
At the same time you do not want more than a few inches of space, otherwise they will use that extra space as their bathroom, defeating your attempts to housebreak them.
Are there any negatives?
Yes, the main criticism that several customers have complained about with Midwest iCrate Pet Crates for Dogs is that they are not strong enough to contain powerful or aggressive dogs that are likely to try to break out, and that even can even include some types of powerful or aggressive puppies.
However, this crate as the name Midwest iCrate Single-Door Home Training and Travel Series suggests, is mainly for training or trained dogs, including growing puppies. However, Midwest do produce a similar Life Stages crate that is better targeted at training a puppy growing into an adult dog – hence the name. You can read a comparison of the two line of crates below.
For strong dogs likely to try to force their way out of the cage, you need a stronger escape proof dog crate like the ProSelect Empire Dog Crate. The iCrate is not suitable for adult dogs that are determined to get out, it's for puppies and dogs that are already crate trained.
So for a fantastic dog crate that is especially suitable for training growing puppies, you can't go wrong with the Midwest iCrate Single-Door Home Training and Travel Series range of pet crates, from Midwest Homes For Pets, one of America's leading and longest in business pet equipment suppliers.
You get an easy to construct crate, that can just as easily be folded down for easy relocation, or used to keep your pet safely crated while traveling. It has rounded corners to help prevent nasty accidents, safe and secure sliding bolt latches and an easy to clean composite slide out pan.
It's no wonder that Midwest iCrate Pet Crates for Dogs are a best seller and well deserving of the very high ratings that it has from a compelling number of customer reviews.
CLICK HERE TO SHOP FOR THIS CRATE ON AMAZON
Midwest iCrate vs Life Stages – What's the Difference?
You may have heard about the Midwest Life Stages Dog Crate. The price is usually marginally higher than the iCrate, yet at first glance they may look the same.
Actually apart from the price, there are two differences in the construction of these crates.
The first is the size. A number of Midwest iCrate dog crate models are lower in height or narrower in width than their Life Stages counterparts, which may be a bit restrictive for your pet.
The other significant difference is that the iCrate is built with stronger material, making for a more sturdier and robust cage than the iCrate.
The price difference is not that great, so it's a bit puzzling as to why both lines of crates exist. When it comes to the iCrate vs Life Stages, unless you have a specific need for the dimensions or the price difference is significant for you, we recommend you buy the Life Stages crate on Amazon.
Dog crate covers are also a good idea to let your dog know that it it is time to settle down. You may also wish to purchase the Midwest Crate Cover to go with it. Click here to buy it on Amazon.
Midwest Crate Assembly Video
Here's a video showing you how simple, quick and effortless it is to set up your crate in less than a minute.