Welcome to our review of the Midwest Life Stages Dog Crate. In this review we will be going through the features and benefits of the Midwest Life Stages Double Door Folding Metal Dog Crate as well as letting you know where to get the best price for this dog crate.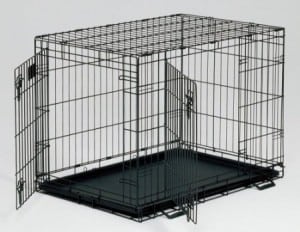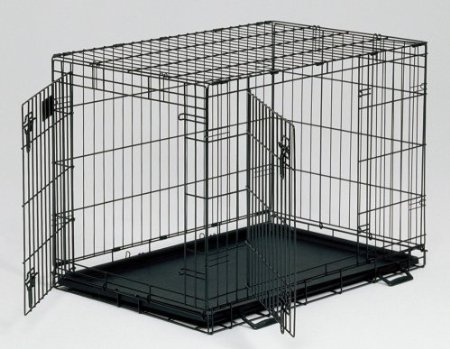 The Midwest Life Stages Crate is a popular choice of dog cage made by one of America's longest established manufacturers in the pet care market – Midwest Homes For Pets, itself a division of Mid-West Metal Products. They also manufacture some of the best dog playpens for exercising your pet in safe space too.
Midwest Home For Pets have over 90 years of business experience to draw from.
If you're in a hurry, click here to buy this crate on Amazon.
It is no surprise therefore that Midwest's crates are among the bestselling dog crates, with the Life Stages crates representing one of the best dog crates on the market today, especially for new puppy owners.
Main Features
Exceptionally versatile metal dog crate with adjustable divider panel. This saves you many as it means that you can keep the cage at the right size for your puppy until he or she is a fully grown adult thanks to the adjustable divider panel.  This is important during housebreaking as your puppy will otherwise relieve himself in the excess space.
Double doors for side and front access – convenience for you and your dog to access and exit the crate.
Slide-bolt latches – easy lock mechanism that also keeps the cage door securely closed
Rounded corners – makes your cage safer by not having sharp edge corners.
Easily sets up and folds down to portable size; 2 plastic handles for carrying – no complicated tools and instructions required to set the crate up. In fact you can have it fully set up in under a minute. The reverse is also true, you can easily fold it down to suitcase size for easy relocation. It even has detachable plastic handles to make carrying the crate around easy.
Durable satin-black electro-coat finish; – Looks nice and will not wear away easily.
 ABS-plastic pan included – easy to clean, and easy to remove slide out pan.
1-year limited warranty – peace of mind that the cage is covered to perform as expected.
Can also be used with the Midwest Exercise Pen
What Crate Sizes Are Available?
The Midwest Life Stages Dog Crate is available in the following six sizes. DD represents double door. Single door models are also available with the same model number minus the "DD" suffix.
| Size | Model | Suitable For |
| --- | --- | --- |
| 22L x 13W x 16H Inches | Midwest 1622DD | Dogs up to 10 lbs |
| 24L x 18W x 21H Inches | Midwest 1624DD | Dogs up to 25 lbs |
| 30L x 21W x 24H Inches | Midwest 1630DD | Dogs 26 – 40 lbs |
| 36L x 24W x 27H Inches | Midwest 1636DD | Dogs 41 – 70 lbs |
| 42L x 28W x 31H Inches | Midwest 1642DD | Dogs 71 – 90 lbs |
| 48L x 28W x 31H Inches | Midwest 1648DD | Dogs 91 – 110 lbs |
CLICK HERE TO SHOP FOR THIS CRATE ON AMAZON
You will want to choose a crate that is a close match to the fully grown size of your adult dog, bearing in mind that your dog needs a few extra inches so that he can easily turn around as well as fully stand in the cage.
If you would prefer a single door model version of this cage, those are available too.
What's so great about It?
The Life Stages dog crates as the name suggests are designed to accommodate your pet from his early life as a puppy, to becoming a fully grown adult dog. Midwest develop their products with the security, safety and comfort of your pet in mind, that's why they've been around for 90 years.
You will love how quick and easy it is to literally set this crate up all by yourself in seconds and without the need for any tools or equipment!
If you would like to provide an enclosed secure space for your puppy to exercise in, you may also like to consider buying the Midwest Exercise Pen that compliments the crate.
Midwest Life Stages vs iCrate – What's the Difference?
The differences between the Midwest Life Stages Crates and Midwest iCrate Pet Crates are not obvious at first glance, but there are two differences.
One is the size of the crates. A few of the iCrate models are a bit narrower and lower in height. This may make the crate a bit more restrictive for your dog.
The other difference is the strength of the crate. The Life Stages crates are a bit stronger, having a closer wire grid and closer supporting bars.
As you may expect, the Life Stages crates also weigh a little more, and tend to cost a little bit more than their iCrate counterparts too.
So when it comes to Midwest Life Stages vs iCrate, we recommend the Life Stages crate, as it really wins over the iCrate in every way apart from perhaps the price. A typically small price difference most people will find negligible anyway.
Are there any negatives?
Yes, as with their iCrate model, the most comment compliant from a small number of customers is that the crate is not suitable for containing a powerful or determined dog that wants to get out. If your pet fits into that category then you may wish to consider an escape proof dog crate instead.
Final Analysis
This Midwest Life Stages Double-Door Folding Metal Dog Crate is a fantastic crate if you need something fuss free, easy to use and even easy to move. This crate has attracted a huge number of customer reviews online with a very strong recommendation from customers supporting that this is a fantastic crate for accommodating your pet from puppy to fully grown dog.
CLICK HERE TO SHOP FOR THIS CRATE ON AMAZON
Dog crate covers are also a good idea to let your dog know that it it is time to settle down. You may also wish to purchase the Midwest Crate Cover to go with it. Click here to buy it on Amazon.
Midwest Under 60 Seconds Crate Assembly Video
See how simple, quick and effortless it is to set up your crate in under a minute in this video.