If you are looking for a cheap dog crate intended to secure your dog, the Heavy Duty SmithBuilt crate is one of the most popular in this category. In this heavy duty Smithbuilt dog crate review, we'll take a detailed look at why this crate is so popular, and what it has to offer.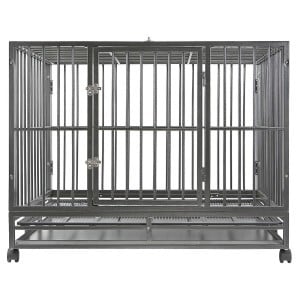 SmithBuilt is a family owned company. Their aim is to provide high quality crates at reasonable prices. They are targeting their products at a perceived gap in the market of customers looking for high quality, affordable products.
One of the most annoying things has to be leaving your pet alone for a bit and finding that she got up to mischief while you were away. Perhaps  a few shoes, sofas and other things were damaged and soiled while they were at it.
Perhaps you have tried securing them in a regular dog cage. Only to discover that Madame Houdini found a way to cleverly unlock or break her way out of the crate. But oh, she's so happy to run and greet you when you arrive at the door. And quickly your initial shock soon turns into frustration and distress.
Not everybody wants or feels it is necessary to spend a large amount of money on buying an escape proof dog crate. And that's where the SmithBuilt dog crate comes in. It was specifically designed for the budget conscious dog owner. It aims to provide a sturdy and secure heavy duty dog crate solution for their pet.
Key Features
Superior, commercial-quality materials and manufacturing
Side and top doors for easy access
Rust and corrosion-resistant floor grate and steel tray with lip
Four rolling casters; two are locking
Colors: Black or Hammered Silver
Size guide: 36", 42" and 48" long cages. 36-inch long cage is 24 in. deep x 29 in. tall overall. 42-inch long cage is 30 in. deep x 34 in. tall overall. 48-inch long cage is 33 in. deep x 37 in. tall overall
Construction
It is true that many consumers, are looking for a heavy duty crate that doesn't break the bank. However it is also true that many cheap crates are testimony to that age old expression that you get what you pay for. Is SmithBuilt any different? Let's take a look.
Thick Frame Design
The first thing noticeable with a heavy duty crate, is typically a thicker frame design. Regular dog crates suitable for puppy training and house trained dogs use a wire frame.  The Smithbuilt crate is built with a 3/4″ frame consisting of  1/2″ diameter (20 gauge) steel tubes for top to bottom robust crate strength.
Top & Front Door For Easy Access
The front door provides easy access for your dog to enter and leave the crate. The top door also gives you a second access point to reach your pet. The front door locks with 2 slide bolt latches. The top door locks with 1 latch.
It should be noted that some customers found their dogs were able to outwit the latches and escape. The problem was resolved with the use of luggage locks to secure the doors.
Rust, Corrosion, and Fade Resistant Finish
The crate is designed to stay in great condition for a long time thanks to its ultra-durable and multi-layer finish that makes the crate suitable for use both indoor and outdoor use.
Removable Metal Pan and a Floor Grate.
Accidents and mess are easily cleaned out the crate thanks to the floor grate and removable metal pan at the base of the crate. It allows your pet to avoid soiling herself. And you are able to quickly remove the mess without having to take apart the crate. Simply slide out the pan, then empty and clean it as necessary.
The grate has been criticized as potentially uncomfortable for your pet. But while potty training it serves its purpose. Once your pet has been house trained to relieve herself when released from the crate, you may wish to place a dog bed inside the crate to make it more comfortable and homely.
Stain Resistant Flooring
Also employing a steel and multi layer finis, the flooring of the crate is stain, warp, rust, odor and corrosion resistant. The lower lip around the perimeter of the floor pan also serves to contain any mess from your pet.
Mobility
The SmithBuilt Heavy Duty Dog Crate comes with 4 castor wheels. This provides mobility should you need to wheel your crate from one location to another. 2 of the wheels are lockable, to keep the cage in place and prevent accidental movement.
Arrives Partially Assembled
The crate ships already partially assembled. It can be easily constructed in minutes, as it requires minimal setup.
Verdict
For many buyers the Heavy Duty SmithBuilt Dog Crate has proven to be the cheap, strong and reliable dog cage that they were looking for.
However, some of these buyers did find that their dog was a Houdini that learned how to work the door latches and escape. The problem was easily resolved by some of those buyers by using some luggage locks to secure the doors.
While many found the crate to be a great buy, there are also a significant number of buyers that were not happy. Some found that their pet was able to bend the bars of the crate. Some found their pet was even able to rip the bars away from the frame.
As such, it's recommended that you consider your dog's temperament, size, strength, and cunning to determine whether you feel this crate will be adequate to securely contain her, or whether you'd prefer to look for an alternative crate.
Compared to other cheap heavy duty crates that we have seen, this one has been significantly tried and tested. Other cheap heavy duty crates tended not to have a comparatively favorable number of reviews, or did not have a significant number of reviews.
Alternative Crate
Proselect Empire Dog Crate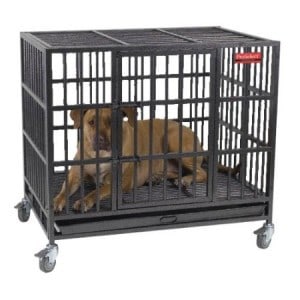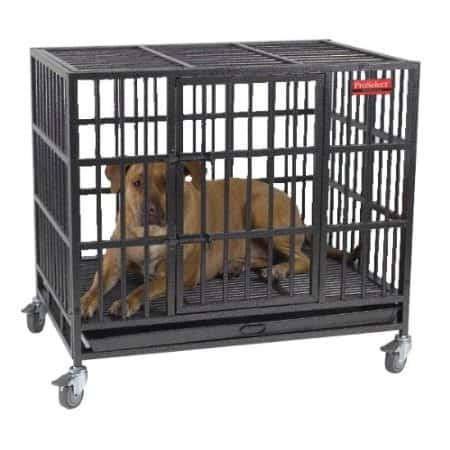 The ProSelect Empire Dog Crate is a great choice for pet owners looking for a secure and reliable crate. It has a robust design and a great track record of buyer reviews.
The reviews are overwhelmingly positive, with a low percentage of negative reviews.
It is a mid-range / market value priced crate. However, it is worth paying if you can afford it. With this cage's stronger build, it is much more likely to keep your pet secure. So you're much more likely to have peace of mind and a dog that doesn't escape, with this crate.
Or you can read our ProSelect Empire Dog Crate review.