So you're here because your dog makes light work figuring out how to destroy or escape from a standard crate, and wondering if there are crates strong enough to put a stop to that. So now it's time for a gorilla tough escape proof dog crate to secure your strong or smart Houdini right? Great, you're in the right place. We've reviewed a selection of the toughest heavy duty dog crates and kennels to secure small Houdinis to large powerful dogs that best fit a variety of needs and budgets.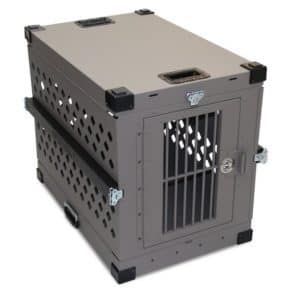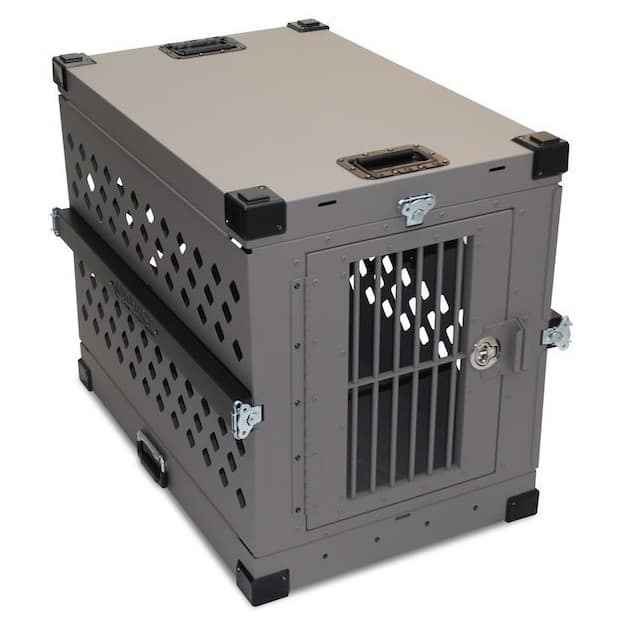 Regular crates are no good for an escape minded large or powerful dog. They will happily destroy, chew, or break out from a regular kennel. Neither are they suitable for smart Houdini dogs. They quickly learn where crate weaknesses are and then exploit them as soon as you're out of sight.
To crate train a powerful or escape artist dog that keeps getting out of their cage, you'll need a secure, tough and strong crate, designed to be virtually indestructible and inescapable. So let's take a look at these so-called Alcatraz dog crates, what they have to offer, and how good the various models are at solving your Houdini problem in our 2018 review.
Best Heavy Duty Dog Crates
Image
Crate
Security
Cost
ProSelect Empire Dog Crate

See on Amazon
High
$$



Grain Valley Collapsible Dog Crate

See on Amazon
Max

Robust and secure, yet lightwieght & portable. Save space by collapsing when not in use.
$$$


SmithBuilt Heavy Duty Metal Cage

See on Amazon
Good
$
ProSelect Empire Dog Cage

For most owners of escaping Houdinis or cage destroyers,  the highly rated ProSelect Empire Dog Cage is the best when it comes to balancing budget with high security and reliability.
This is why it is known as the original Alcatraz dog crates, and remains one of the most popular and sought out cages for hound owners looking for a tough and secure solution for home use.
The heavy gauge dog crate is very robust and durable. It has satisfied many customers.
It is built with a solid 20-gauge steel frame using half-inch diameter steel tubes. The steel frame is welded at the stress points, to resist your pets best efforts to jailbreak their cage. A pair of stout door latches further reinforce this steel dog crate.
For most dogs, it is an escape proof dog crate that has been well proven by a large majority of highly satisfied buyers to also be virtually indestructible.
The vast majority of buyers have found it gets the job done. They agree it is tough, rigid and robust enough to keep their Houdini secured.
The great news is this tough cage is not too expensive, even though of course you're paying more for the build quality, design and material in comparison to a regular wire pet cage. Being that it's also a dog cage on wheels, you can easily move it across the floor if necessary.
The wheels of course can also be locked in place to keep this durable crate secure in place.
Shop for this no escape dog crate on Amazon. It's available in Medium 37″L x 25″W x 33 3/4″H and Large 42 1/4″L x 30 3/4″W x 41 1/4″H:
Read our complete Proselect Empire dog cage review.
Impact Dog Crate Stationary/Collapsible


At the higher end of the budget are gorilla tough dog crates called the Impact Case Stationary & Collapsible Dog Crates. They are also sold under the brand name Grain Valley.
These aluminum construction cages offer the advantages of being made of strong aluminum metal, yet lightweight, making the cage much more mobile than other industrial dog crates and great for pet travel.
They are popular for dog owners looking for a top security solution, or for owners needing to frequently travel by road or air with their pet.
This industrial strength aluminum dog crate is designed to safely and securely contain your dog with its robust build. This robust, tough and chew proof cage is virtually inescapable and indestructible for even the toughest breeds.
Yet at the same time, these aluminum dog crates help to make your pet feel at home through their more den / kennel like appearance. Design is important as it can help reduce your dog's level of separation anxiety and help him feel more like he is in a safe and private space. That's because dogs are naturally den animals.
These kennels are made from tough, strength reinforcing aluminum. This escape proof dog cage is virtually indestructible. It's a robust, industrial strength heavy duty crate, and it's of high enough quality and reliability for even the police and military to use.
It has a chew proof/resistant design that prevents an anxious, hyperactive or strong dog from setting her jaws or paws to work in an attempt to destroy the cage and escape. There's little chance of your escape artist dog escaping from Alcatraz in this gorilla tough dog crate.
This kennel is also great for the home space conscious, or those that would like to travel with their dog. This is because the crate has a portable design. When not in use, it can be quickly and easily collapsed into a suitcase or briefcase style shape 8 inches high.
Not only that, it's not a heavy crate. It is lightweight and portable. So as well as indoor use, because it can easily be used for travel too. In fact, it's of a design that also allows you to fly with your dog.
It is one of the strongest dog crates, being made of robust aluminum, and built to a very high standard of quality.
It's An IATA Compliant Travel Crate!
It's lightweight and portable yet robust design makes this secure dog crate great for travel for road or by air.
For flying with your pet, the IATA is an international airline trade organization that sets international airline requirements for airline approved dog crates.
The Collapsible Crate is IATA compliant so you can use it to travel by air with your pet subject to any other conditions imposed by the airline of choice.
The Stationary version of the crate goes further, it is an IATA 82 dog crate which you will need if you are traveling with dogs more commonly associated as fighting or dangerous breeds. This means that that Stationary Crate's industrial tough design meets the special enhanced IATA CR 82 dog cage requirements for for travel with pitbulls, mastiffs and other breeds that are claimed to be powerful, aggressive, fighting or dangerous.
However, do note that you still need to check the requirements of the airline that you are considering traveling with. This is because they are free and able to set their own stricter criteria. Also while the cage is compliant, a few other things are required to make the crate air travel ready.
The stationary model is similar in design to the collapsible model, except that it is solid aluminum on all sides, rather than having reinforced collapsible sections in the center of the crate. Its ventilation hole layout varies somewhat also due to the airline rails affixing slightly higher on this model than they do on the collapsible.
This military grade kennel is great for travel, whether you simply want to transport your pet on the road with you, or go for a flight with your pet. It truly is an all in one best of the best husky / pitbull proof dog crates, or whatever other large or powerful breed you have.
The robust and chew proof design and all the built in features mentioned make this our choice of the best escape proof kennel.
We especially recommend this high end crate if you have a Pitbull Terrier, Bull Terrier, Staffordshire Bull Terrier, American Staffordshire Terrier / Amstaff, Rottweiler, Dogo Argentino /Argentine Mastiff, Caucasian Shepherd, German Shepherd, Doberman, Malinois, or Anatolian Shepherd / Karabash breed of dog.
There are several sizes of the collapsible and stationary cages. They are available in sizes: Medium 31″L x 22″W x 23″H, Large 35″L x 25″W x 29″H, and Extra-Large 41″L x 25″W x 29″H.
This is a crate that gets the job done for securely containing virtually all dogs. It's also a must if you like to travel a lot, being suitable for stringent IATA CR82 air travel requirements. It's also lightweight for portability.

If you prefer the collapsible model, which saves space and is easier to move around when not in use. You can get it from Amazon too. Note that if you want to use it for air travel, it is IATA compliant but does not meet CR82 requirements.
How To Setup Your Crate – Stationary & Collapsible Models
This video shows you how quick and easy it is to setup (or take down) your stationary kennel:
And here's a video on how to set up the collapsible model:
Read our complete Impact Dog Crate Stationary & Collapsible Review
Zinger Winger Dog Crates

Zinger Wingers are popular sturdy dog crate alternatives to the Impact Crates. Similarly, they have a construction made from robust, lightweight and durable aluminum. So again if you are looking for a solution that offers a degree of portability, having a lightweight crate like this achieves that aim.
Unlike the Impact, the Zinger Winger no dog escape crate uses solid metal steel bars for its door. Dogs will often choose to attack the door, knowing it is both the way he gets in and out. It is important that it is tough and secure. This robust solution works well here. It has a quality locking mechanism. This one uses two flush-mounted slap latches to ensure a secure close. It also uses a full length piano hinge plus striker plate. Its design also allows for reversible door installation. So it's great for left-handers as well as right-handers.
It also has air vents at the tops and bottoms of the sides and rear of the crate. The front door has the greatest level of airflow due to it's vertical and horizontal crossover bar design. And of course because the crate is made from aluminum, it dissipates heat much faster than a steel crate could. So this is a crate that you could comfortably in multi-climates. The crate won't get too hot, and it has ample air flow all around.
This crate was also designed with air travel in mind. So you can also obtain rails to make it IATA compliant for flying on airlines. It's a great option for people looking for a virtually unbreakable dog cage.
The Zinger Winger heavy duty dog crate models are available in 4 sizes, each size has it's own model number as follows:
DX5000 – 28 x 32 x 40
DX4500 – 24 x 30 x 38
DX4000 – 24 x 28 x 36
DX3000 – 21 x 24 x 30
Diamond Deluxe Dog Box

This dog box is a popular choice for people looking for a crate primarily for travel use at a cost that isn't too expensive.
Many people looking to ride with their pet in the back of a truck or ATV like to go for a dog box style of kennel. Of course it is also for use for dog crating and housing too.
It's made of diamond tread aluminum for industrial strength with a low profile weight. So it's robust, tough and durable, while also being light enough for easy portability.
Its tread finish helps prevent sliding to keep your dog box in place on the floor of your vehicle. And the finish also looks great.
It features a locking T-handle on a sturdy door to stop your dog escaping.
Smithbuilt Dog Crate

Last of all we have the SmithBuilt Crate. This cage is a lot cheaper than the ProSelect cage. It's specifically aimed at the budget or price-conscious market looking for a low cost cage.
The low price of this dog crate with wheels has indeed made it a popular choice.
Despite being low cost, a clear majority of buyers have found that the cage successfully met their expectations. It being both virtually indestructible and a cheap escape proof crate that kept their pet securely contained.
Some owners did have an issue with the design of the door latches however. They found that their smart and observant Houdini pet soon learned how the latch worked and let themselves out.  To solve this problem, luggage locks were used to secure the door.
For some buyers however, this crate did not prove indestructible or inescapable for their pet. They found their pet was able to overpower the crate, bending or ripping away the bars. But considering the price, this should not come as much of a surprise.
A majority of buyers of this crate had a positive experience. But this wasn't the case for a significant number too. So we advise that you do need to make a considered decision over whether to purchase this.
Bottom line, if you're going to go for the cheapest solution, then you may also end up being one of the unlucky regretful with a crate that is too weak in build, strength and security to contain your pet, compared to the fair market value and higher priced crates.
The more robustly built market value priced ProSelect dog cage. is a better choice if you feel that your dog is of an escape or jailbreak temperament, due to its quality, build, strength, and reliability. And this is backed up with a significant volume of customer reviews. However if you feel it's too expensive and can't stretch your budget to get it, then you may like to consider the SmithBuilt crate.
If you feel your dog is reasonably crate trained and would behave in a cage that looks and is stronger than a wire one, the SmithBuilt cage should get the job done.
Out of all the cheap models we've currently observed that are designed to keep dogs secure, this is one of the best. Unlike many other cheap and not so super heavy duty cages, it has many reviews of buyer experiences that show that the majority had a positive experience.
The Smithbuilt cage is well established. It has a tried and tested track record of many customer reviews. So you can feel comfortable with what to expect. Beware of other cheap cages that do not have a good number of customer reviews. You'll have less reason to have confidence in whether it'll be suitable or a complete waste of money, or even dangerous for your pet.
Smithbuilt is available in these sizes:
Medium – 36″ L x 24″ D x 29″ H
Large – 42″ L x 30″ D x 34″ H
Extra Large – 48″ L x 33 " D x 37″ H
What Are They?
The standard regular wire cages are built primarily to secure puppies. Due to this fact, popular ones from established brands come with a divider so the crate can be used from puppy to adult dog.
They're also good for adult dogs that may bark and whimper with one condition. They must not be predisposed to trying to escape or break free of their crate. In other words, if you have a puppy or a well behaved and house trained pet, then a wire cage will probably suffice.
But for escape artist or powerful dogs that refuse to be crated, wire dog kennels are unlikely to be strong, robust or durable enough. These dogs will either prove to be a Houdini and learn how to exploit the cage weaknesses, or they will overwhelm or destroy it with brute force.
Wire crates tend to be far too weak for securely containing dogs that are large, strong or non-crate trained and determined to break out out.
Some standard crates simply have poor security, and your Houdini pet quickly learns how to exploit the weakness and let himself out of the cage. Hence the need for a stronger and virtually inescapable dog crate that is strong and secure enough to prevent them from escaping.
Warning: Heavy Duty Dog Cages Are Not All Built Equally!
Just because a crate claims to be inescapable, does not make it so. This is especially likely to be the case if it's cheap.
Cheap Crates
Cheap cages for less than $300 may scrimp on the quality of materials or construction. As such, they may prove not to be very strong or effective at preventing some dogs from escaping.
Some are okay and do reasonably meet the aim of providing a budget friendly solution. This may especially be the case with smaller dog breeds. In some cases also, it appears to be the mere design of a stronger crate that prevents some pets trying too hard, if at all.
Some cheap "heavy duty" cages may be unsafe. So you may want to beware of any brands that are unheard of, or if they have very few reviews to back them up and inform you of what to expect.
They key point to bear in mind is that if you get a cheap crate, it may end up costing you more if the result is a destroyed crate, and destroyed household items by a roaming pet, all of which you'll then have to replace.
Market Value Escape Proof Dog Crates
Good metal dog crates start from around $300 and are designed and constructed to be far more robust, reliable and effective at ensuring there is no escape for would-be Houdini escape artist dogs.
They can generally be relied on to be escape proof and secure most dogs.
High-end / High Security Tough, Secure Crates
High-end solidly built indestructible dog crates start from around $600. They are robustly built quality cages that are designed to be pretty tough for stronger breeds to destroy and near impossible to escape for the strongest and wiliest of dogs.
These cages will be the most successful at securing and preventing escape or break out of the most powerful and determined dogs. There may still be the odd exception – hence virtually. But for most canines, they'll be staying exactly where you want them. No more getting up to mischief, then wagging their tail as they greet you at the door.
High-end crates offer the best peace of mind. The trade off for that benefit of course is reflected in the price.
Crate Training Has a Significant Role To Play
Of course if you have a dog that tries to jailbreak their crate, the use of the crate should be backed up with regular and consistent crate training so that your pet learns to become accustomed to occupying his crate as his home.
A lack of crate training and a poor crate experience is what leads to your pet feeling abandoned, imprisoned, and upset in his cage. Therefore he quickly becomes anxious, desperate and determined to escape, as he knows you are about to leave him there. The aim is to make your pet see their crate as a safe space, and their own private retreat.
What Size Do You Need?
If you're not sure what heavy duty crate size you need, not to worry. Below is a breakdown of sizes and what type and weight of dog they are suitable for.
Measure your dog while he or she is standing naturally on all fours to ensure that you do get the dog crate size that you need. Measure your do from tip of nose to tail to get his full body length. The crate will need to be large enough to allow your pet to stand and turn around in.
Crates can come in various sizes. Here's a rough guide to example crate sizes and suggested dog weight and example breeds.

Be sure to check to check the manufacturer or retailer's details of the crate you are considering purchasing, to confirm the cage dimensions, and their recommended weight and/or breeds that their crate is suitable for.

| Max crate size (L x W) | Max Dog Weight | Example Dog Breeds |
| --- | --- | --- |
| 24" x 18" | Up to - 25 lbs | Affenpinscher, Maltese, Norfolk Terrier |
| 30" x 24" | 25 - 40lbs | American Staffordshire Terrier, Beagle, German Pinscher, Irish Terrier |
| 36" x 24" | 41 - 70lbs | American Pitbull Terrier, Border Collie, Bull Terrier, Dalmatian |
| 42" x 30" | 71 - 90lbs | Airedale Terrier,Boxer, Malinois |
| 48" x 30" | 90 - 110lbs | Airedale Terrier, Boxer, Malinois |
| 72" x 36" | 110 - 180lbs | Akita, Great Dane, Siberian Husky |
How Long To Leave Your Dog In A Crate?
Okay, so now that we can solve the question of keeping your pet secure, we may have another question to consider.
One of the most important things to remember is that yes, a kennel is for training your pet. And it will keep your pet from chewing, ripping and getting up to other mischief in your home while you are away.
But secure containment should not equal neglect. Your pet has mental and physical needs too. She can last for up to 8 hours without needing to relieve herself. However, apart from the extreme exceptional circumstance, you should be giving your dog a break outside the crate at least once in 4 hours. You should also have allowed her to get some exercise before crating. She should also have access to water.
4 hours is the maximum time senior dogs should be left for. Older dogs need relieve themselves more frequently than younger ones. Be mindful of how long you leave them crated. This is especially important if they have developed conditions such as incontinence.
Remember the ultimate aim is to be able to train your dog to behave. Then you may not need to keep your pet securely contained while you are away.
This video has some fantastic tips on behavioral dog training using a crate.
Should I Use A Dog Bed?
If your dog is potty trained and won't litter their crate with any provided food and water, then yes. A crate usually has a hard floor. Some of them have a grilled floor. This can become quite uncomfortable after a few hours. So a potty trained dog will certainly appreciate your efforts to make their crate feel like home.
However, you may have a problem if they love to chew. They may decide to make their bed the object of their chewing desire. Of course beds are designed to be comfortable, which means making them chew resistant is difficult.
However their are some beds made for light to moderate chewers. One such manufacturer of a bed designed to be chew resistant is K9 Ballistics.
K9 Ballistics self-describe their popular Original TUFF Dog Bed as having a 4/5 chew rating and you can check customer reviews of the K9 Ballistics bed on Amazon to judge for yourself. Their beds are deigned to be a little tougher than regular beds to withstand light to moderate chewers.

Another bed to check out is the Orthopedic 4″ Pad by Big Barker.

However, do bear in mind the thickness of a bed and how this may reduce the height of your pet's crate. Specifically your pet's ability to comfortably stand and turn around in it.
Dog Toys For Separation Anxiety

If your furry companion loves to chew, then give him something other than his kennel to chew on. You can satisfy and relieved your furry friend's desire to bite and gnaw with some good quality dog toys.
It is known that that your pet is most intensely anxious in the immediate minutes that you leave.
So a good quality toy also helps keep your dog busy and distracted during those crucial first 20 minutes of separation.
One of the tried and trusted toys for chewing dogs is to give him a Kong dog toy. It's not even just a toy, it's also a food and treats dispenser.
It will give your pet a challenge and something to occupy himself with while you are away.
It's not just a fun toy that provides a useful chewing distraction for them. It is also a treat dispenser. Stuff it with treats to keep him busy. These can either be the official treats that Kong produce.
Or if you're more adventurous or like to control what your dog eats, here are some homemade dog treat ideas.
He'll have fun working hard to get at those treats. Toys like these will help him associate crate time as being a good thing.
The Kong comes in 4 versions: puppies, seniors, regular adult, and extreme chewer versions.
This black colored toy from Kong is officially called the Extreme Kong dog toy. It indicates that it has an extra strong level of toughness for extreme chewers. It should prove indestructible for most serious power chewers.
Learn more about the Kong dog toy or what Kong toy size to get.
ThunderShirt Dog Shirt For Separation Anxiety

If your dog suffers from separation anxiety, you may like to consider the Thundershirt. Many customers have felt very positive about and rated it accordingly. It may prove useful when crate training.
From the manufacturer: "ThunderShirt is a terrific solution for fear of thunder, fireworks, separation anxiety, problem barking, travel and more!"
Many customers online agree, and have awarded it high ratings. They've also expressed delight and high satisfaction that the ThunderShirt has helped them by helping calm down their pet.
The ThunderShirt manufacturer's themselves claim 80% success rate. So while each dog is different, online reviews show that most dog owners have had success with using a ThunderShirt.
However, while it may help provide physical comfort to your pet, remember that it is your pet's physical needs that need addressing in particular. For helping deal with your dog's separation anxiety, the ThunderShirt is a possible aid. It is however not the solution. You'll still need to complete crate training with your pet to ultimately help them get over their anxiety.
While it may not work for all dogs, for such a low investment cost, it may be worth a try. It's a good buy if it does prove to have a calming effect on your anxious pet. Especially if everything that you have tried so far to relax and calm your dog down hasn't worked. It may be a great investment to purchase with your escape proof cage.
You may also like to check out this video report from Fox News: