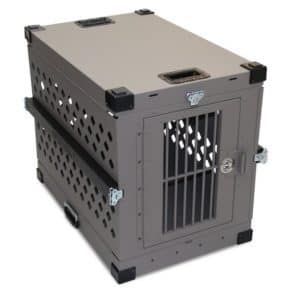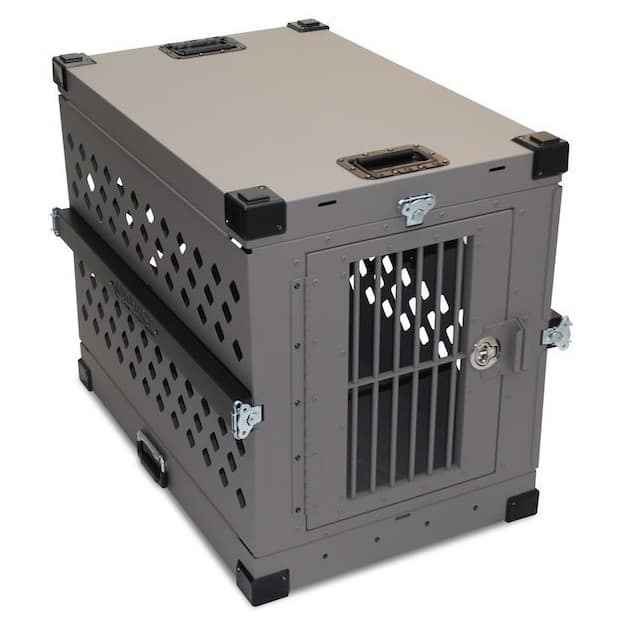 If you're here, then we are probably agreed that an escape proof or heavy duty dog crate has become a must. A large or powerful dog that will happily destroy, chew, break, or find another way to escape from a regular kennel will now need something much tougher.
To train such a powerful or Houdini dog, you need a strong, tough and secure heavy duty pet crate that is designed and built to be virtually indestructible and inescapable. We've reviewed several of the best heavy duty crates for dogs to fit a range of budgets.
Top 3 Heavy Duty Dog Crates
Here are the top 3 cages, one for each of 3 budget levels.

Crate
Summary
Max Security, Higher priced: Impact Case Collapsible Dog Crate

High Build Design, Strength & Quality.

Maximum security - Virtually indestructible and escape proof.

Lightweight & collapsible for portability or storage.

Suitable for IATA 82 air travel requirements.

Get if you want maximum peace of mind, or if you have pet travel or space saving needs.



Check Price & Reviews

High-security, Mid-Priced: ProSelect Empire Dog Cage

Mid-priced.

High security - Will contain most dogs.

Has lockable wheels.

Best price/security combo cage.



Check Price & Reviews

Good security, budget priced: SmithBuilt Heavy Duty Metal Cage

Low-priced.

Good security.

Has lockable wheels.

If you're on a tight budget, this is the best and most reviewed low cost crate.



Check Price & Reviews
Regular Wire Crates vs Heavy Duty Crates
Regular wire dog cages are built primarily to secure puppies as they grow into adult dogs and are actively being crate trained. Or for dogs that may bark and whimper but don't try to escape or break free of their crate.
But for escape artist or powerful dogs, wire dog cages are unlikely to be strong, robust or durable enough. These dogs will either prove to be a Houdini and learn how to exploit the cage weaknesses, or they will overwhelm or destroy it with brute force. Wire crates tend to be far too weak for securely containing dogs that are large, strong or non-crate trained and determined to break out out.
Some standard crates simply have poor security, and your escape artist pet quickly learns how to exploit the weakness and let himself out of the cage. Hence the need for a stronger inescapable dog crate that is strong and secure enough to prevent them from escaping.
Heavy Duty / Escape Proof / Indestructible Dogs Crates – Great For Securing Most Canines, But They're Not All Built Equally
It is worth bearing in mind that while a heavy duty dog crate is intended to prevent a dog from escaping, it does not necessarily mean that it will be robust enough to 100% prevent any dog from breaking out. These kennels are not all built equal. So even the best ones are to be regarded as virtually indestructible or escape free.
The quality and build of these kennels are major factors to consider. There are three classes of sturdy tough crates that we have identified.
Cheap ones may scrimp on the quality of materials or construction. As such, they may prove not to be very strong, sturdy or effective at preventing some dogs from escaping. Some cheap "heavy duty" cages may even be unsafe, so you may want to beware of any brands that are unheard of or have very few reviews.
Good heavy duty metal dog crates are designed and constructed to be far more robust, reliable and effective at ensuring there is no escape for would-be Houdini escape artist dogs. They generally get the job done.
High-end solidly built cages are robustly built quality cages that are designed to be virtually indestructible for the strongest and wiliest of dogs. These crates will be the most successful at securing and preventing escape or break out of the most powerful and determined dogs. There may still be the odd exception – hence virtually, but for most canines, they'll be staying exactly where you want them. No more getting up to mischief, then wagging their tail as they greet you at the door.
Of course the use of any crate should be backed up with crate training, so that your pet learns to become accustomed to occupying, rather than feeling abandoned in his cage and desperate or determined to escape.
Let's look at some quality crates in this class to suit all budget types, starting with the most sturdy solution.
Best Heavy Duty Escape Proof Dog Crate
Chew Proof Aluminum Impact Case Collapsible Heavy Duty Indestructible Dog Crate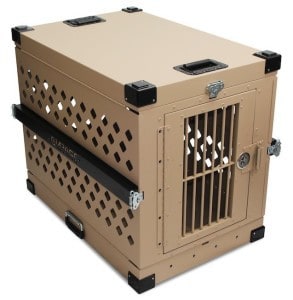 At the higher end of the budget is this gorilla tough dog crate called the Impact Case Collapsible Dog Crate. It comes with a few bonus features for cage mobility and pet travel.
This industrial strength crate is designed to safely and securely contain your dog with its robust build. This strong, sturdy and tough cage is chew proof and virtually inescapable and unbreakable.
Yet at the same time, the Impact Case Collapsible Aluminum Escape Proof Dog Kennel aims to make your pet feel at home through its more den / kennel like appearance, which may also help reduce your dog's level of anxiety and help him feel more like he is in a safe and private space.
The Impact L and XL heavy duty dog crate is made from strong, strength reinforcing aluminum. This escape proof heavy duty large dog crate. is very strong. It's a secure crate with robust industrial strength, and of high enough quality and reliability for even the police and military to use.
It has a virtually indestructible chew proof design that prevents an aggressive, strong or powerful dog from setting her jaws or paws to work in an attempt to destroy the cage and escape. There's little chance of your escape artist dog escaping from Alcatraz in this gorilla tough dog crate.
This heavy duty escape proof dog kennel is also great for the home space conscious, or those that would like to travel with their dog. This is because the crate has a portable design. When not in use, it can be quickly and easily collapsed into a suitcase or briefcase style shape 8 inches high.
And as well as indoor use, because it is lightweight and portable, it allows for travel too. In fact, it's of a design that also allows you to fly with your dog. It is our pick of the best heavy duty kennel if you're looking for a virtually indestructible crate of a very high standard of quality.
It's An IATA 82 Compliant Travel Crate!
The IATA is an international airline trade organization that sets international airline requirements for airline approved dog crates.
The Impact Case Crate is an IATA 82 dog crate. This means that that Impact Case's indestructible design meets the special enhanced IATA CR 82 requirements for dog cages for pitbulls and other breeds that are claimed to be powerful or aggressive. Only the toughest dog cages are acceptable.
However, do note that you still need to check the requirements of the airline that you are considering traveling with. This is because they are free and able to set their own stricter criteria. Also while the cage is compliant, a few other things are required to make the crate air travel ready.
The military grade Impact dog cage is great for travel, whether you simply want to transport your pet on the road with you, or go for a flight with your pet. It truly is an all in one best of the best pitbull dog crates, or whatever other large or powerful breed you have.
The robust and chew proof design and all the built in features mentioned make this our choice of the best escape proof kennel.
We especially recommend this large or extra large heavy duty dog crate if you have a Pitbull Terrier, Bull Terrier, Staffordshire Bull Terrier, American Staffordshire Terrier / Amstaff, Rottweiler, Dogo Argentino /Argentine Mastiff, Caucasian Shepherd, German Shepherd, Doberman, Malinois, or Anatolian Shepherd / Karabash breed of dog.
There are sizes of the Impact Case heavy duty dog kennel for medium size dogs, large size dogs and extra large size dogs.
Where To Buy The Impact Case Collapsible Dog Crate
This escape proof crate is available in sizes: Medium 31″L x 22″W x 23″H, Large 35″L x 25″W x 29″H, and Extra-Large 41″L x 25″W x 29″H.
Click Here to Shop For The Impact Crate On Amazon
Note: There is also a cheaper non-collapsible version of this virtually indestructible dog crate. It's called the Impact Case Stationary Dog Crate.
It is similar to the collapsible model, except that it is solid aluminum on all sides, rather than having collapsible reinforced sections in the center of the crate. It also only has holes in the top section.
You still get the metal bar airline rails with this Impact kennel, so you are still good if you are at least considering the possibility of flying with your pet.
How To Setup Your Impact Case Collapsible Heavy Duty Dog Crate
This video shows you how quick and easy it is to setup (or take down) your Impact Case kennel. It's not just designed to be a robust and inescapable dog crate, it's also designed to be highly portable and convenient to use.
Read our complete Impact Case Collapsible Dog Crate Review
Best Mid-Range Heavy Duty Steel Dog Crate With Wheels
ProSelect Empire Indestructible Dog Crate Kennel Cage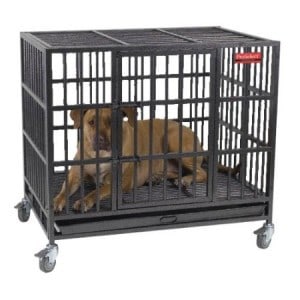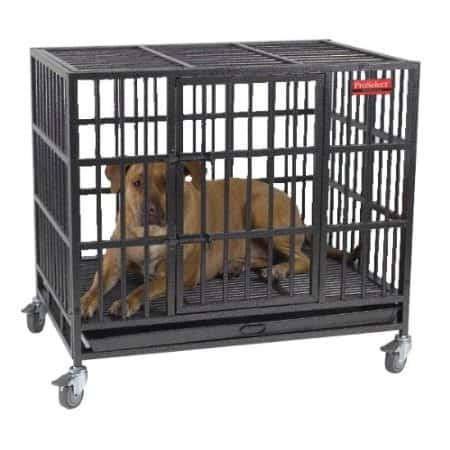 For most owners of Alcatraz escaping Houdinis or cage destroyers,  the highly rated ProSelect Empire Dog Crate is the best when it comes to balancing budget with high security and reliability.
It is a very robust, durable and sturdy dog cage that has satisfied many customers. That's thanks to its 20-gauge solid steel frame.
The solid steel frame is reinforced and strengthened with half-inch diameter steel tubes design with welding at the stress points. This cage is also reinforced by its pair of stout door latches. For most dogs, it's a breakout proof dog kennel that has been well proven by a large majority of highly satisfied buyers to be virtually indestructible and inescapable.
Best Value For Money, High Security Escape Proof Dog Crate
This escape proof dog kennel has been tried and tested by many buyers too. The vast majority have found it gets the job done. They agree it is tough, sturdy and robust enough to keep their Houdini secured.
The great news is this tough dog crate is not too expensive, even though of course you're paying more for the build quality, design and material in comparison to a regular wire dog cage. Being that it's also a dog cage on wheels, you can easily move it across the floor if necessary. The wheels of course can also be locked in place to keep this durable crate sturdy and secure in place.
Shop for this no escape heavy duty metal crate on Amazon. It's available in Medium 37″L x 25″W x 33 3/4″H and Large 42 1/4″L x 30 3/4″W x 41 1/4″H:
Read our complete Proselect Empire dog crate review.
Best Cheap Heavy Duty Dog Crate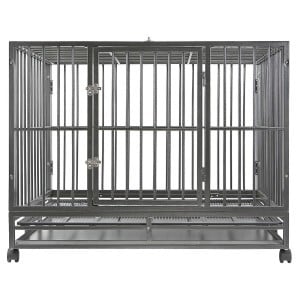 Last of all we have the SmithBuilt Heavy Duty Dog Crate. This cage is a lot cheaper than the ProSelect cage. That's because it is specifically aimed at the budget or price-conscious market, that are looking for a cheap heavy duty dog cage.
The low price of this dog crate with wheels has indeed made it a popular choice.
Despite being low cost, a clear majority of buyers have found that the cage did also meet their expectations of being an indestructible and cheap escape proof crate that keeps their pet securely contained.
Some owners did have an issue with the quality of the door latches. They found their Houdini pet soon figured out how the latch worked and let themselves out.  However after using luggage locks, the cage was fine.
However for some buyers this crate did not prove indestructible or escape proof for their pets, and they found their pet was able to bend or rip away the bars.
If you feel that your dog is of a temperament that makes him or her one of this minority that may manage to find a way to escape or damage the SmithBuilt heavy duty dog kennel, then we suggest you trust your instinct and consider purchasing the stronger and more robustly built ProSelect dog crate.
If you feel your dog would behave in a cage that looks, and is stronger and more sturdily built than a wire crate, then the SmithBuilt heavy duty dog crate should do the trick, as it has for most buyers. Out of all the cheap pet crates we've observed that are designed to keep dogs secure, this one is the best, the most reliable and the safest.
The Problem With Cheap Heavy Duty Dog Crates For Sale
Many cheap so called indestructible crates have a level of quality that may not be fit or even safe for dogs. Do not be fooled by appearance. If the crate is not well established, it may be best to give it a miss.
While we do recommend paying a bit more for the ProSelect Empire Dog Crate above due to its superior build, strength, and reliability, if you feel the ProSelect heavy duty dog crate is too expensive and will be going low cost, then we suggest you go with the SmithBuilt crate. It is well established and has a tried and tested track record of many customer reviews for you to feel comfortable with what to expect.
It is available in these sizes:
Medium – 36″ L x 24″ D x 29″ H
Large – 42″ L x 30″ D x 34″ H
Extra Large – 48″ L x 33 " D x 37″ H
To learn more about, or to buy the SmithBuilt Heavy Duty Metal Cage, click the link below:
Click Here To Shop for this crate on Amazon
For Dog Separation Anxiety You May Also Like:
Heavy Duty Kong Dog Toy
While a heavy duty dog crate is great to keep your pet contained, the issue of relieving your companion's desire to get out still needs to be addressed.
It is known that that your pet is most intensely anxious in the immediate minutes that you leave.
Help keep your dog busy and distracted in those crucial first 20 minutes of separation. Give him a Kong dog toy that you can fill with food and treats.
It will give your pet a challenge and something to occupy himself with while you are away.
It's not just a fun chew toy. It is also a treat dispenser. Stuff it with treats to keep him busy. He'll have fun working hard to get at those treats. Toys like these will help him associate crate time as being a good thing.
The Kong comes in 4 versions. For dogs needing a gorilla tough crate, you'll probably want a heavy duty Kong Toy.
This black colored toy from Kong is officially called the Extreme Kong dog toy to indicate it's extra strong level of toughness for extreme chewers. It should prove indestructible for most serious power chewers.
Learn more about the Kong dog toy or what Kong size to buy.
ThunderShirt Dog Shirt
If your dog suffers from anxiety, you may like to consider the Thundershirt. It is a highly rated product that many customers have felt very positive about. It may prove useful when crate training.
Click Here To Shop For The ThunderShirt on Amazon
From the manufacturer: "ThunderShirt is a terrific solution for fear of thunder, fireworks, separation anxiety, problem barking, travel and more!"
Many customers online agree, and have awarded it high ratings. They've also expressed delight and high satisfaction that the ThunderShirt has helped them by helping calm down their pet.
The ThunderShirt manufacturer's themselves claim 80% success rate. So while each dog is different, online reviews show that most dog owners have had success with using a ThunderShirt.
And of course if it doesn't work for your dog, that's not a problem. Just be sure to buy from a retailer with a good returns policy. Even better, buy directly from the Thundershirt company itself. You can rest assured that they sell the Thundershirt to you with a money back guarantee. At the time of writing, they also sell the Thundershirt themselves on Amazon among other sellers.
For such a low investment cost, it's got to be worth a try. Especially if everything that you have tried so far to relax and calm your dog down hasn't worked. It is a great investment to purchase with your escape proof cage.
You may also like to check out this video report from Fox News:
How To Train Your Dog To Get Used To His Indestructible Dog Crate
Crate Training Tips Video
Click Here To Shop For Your Crate on Amazon
This video has some fantastic tips on behavioral dog training using a crate.
Learn more about the importance of a robust crate for escape artist and gorilla dogs to avoid the horror headline experiences of "Houdini dog escapes crate".