If you have a dog that is an escape artist, then you may have heard about the ProSelect Empire Dog Crate. It has very quickly gained popularity as an option in the heavy duty market.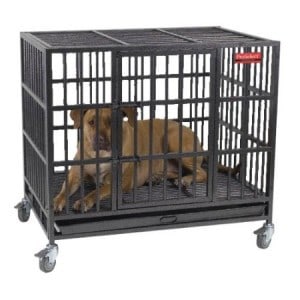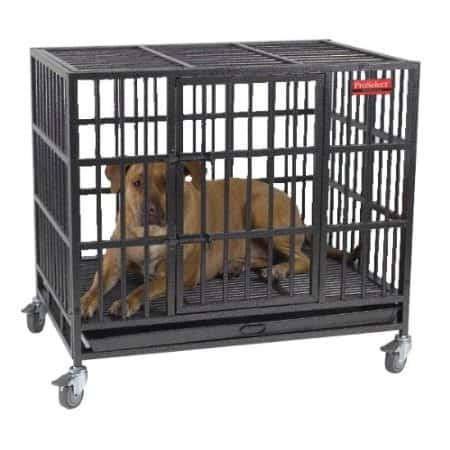 But is it actually any good? Is it strong enough to handle powerful jailbreaking dogs? Is it secure enough to prevent Houdini dogs from figuring a way out? Let's take a closer look.
The ProSelect Empire Dog Crate is one of the most established heavy duty dog crates on the market for people looking to securely contain their pet.
This crate is designed to be the inescapable kennel you've been looking for with its tough 20-guage steel tubing, heavy duty stress point welding, and dual door stout latches.
Additionally it has a rust resistant high grade hammertone finish designed to last a long time.
This solid construction is great at securing most breeds and sizes of dogs that it can fit. It's what has made this such a popular crate that continues to hold up well even against cheap pretenders of a similar design.
As for maintenance, It is also easy to clean, thanks to its floor grate and steel tray underneath.
Despite being heavy due to the materials used in its construction, the crate does have some limited mobility. This is thanks to its four removable casters and wheels. So you are able to roll the cage on the floor to wherever you want to position it.
The ProSelect crate also helps protect your carpet from crafty dogs by the crate floor not resting directly on your carpet. So it will not be likely that your pet will have much success if he or she wishes to try to claw away at the carpet or scratch a wooden floor. This is because the internal floor, which is a griil sits at a raised height. The grill sits above the removable tray. The base is in turn raised by the wheels on this metal crate, so it's tough for your dog to paw away at the carpet.
The grill is particularly useful if your dog hasn't been housebroken yet, as all the waste will simply drop through the grill to the tray underneath. If your dog has been trained not to eliminate in his cage, then you may want to purchase a pad or mat to make it more comfortable.
Crate Sizes
There are two sizes of this cage. You can buy the ProSelect Empire dog crate large size which is 42", or the medium 37" size. Unfortunately they do not do a size for larger dogs.
The measurements for the 42" long ProSelect dog crate – model number ZW179 42 is as follows:
Outside dimensions: 42 1/4″L x 30 3/4″W x 41 1/4″H
Inside dimensions: 40 3/4″L x 28 1/8″W x 31 3/4″H
The measurements for the 37" long ProSelect dog crate – model number ZW179 37 is as follows:
Measures outside 37-inch length 25 1/8-inch width by 33-3/4-inch height
Measures 35-3/4-inch length by 24-1/2-inch height by 23-1/2-inch width inside dimension
ProSelect Empire dog cages are relatively easy and straightforward to assemble.
Shop for the Proselect dog crate on Amazon. Available in Medium 37″L x 25″W x 33 3/4″H and Large 42 1/4″L x 30 3/4″W x 41 1/4″H:
Is The Crate Strong Enough For Large, Powerful And Aggressive Dogs?
This metal steel heavy duty dog crate is well built with strong and tough 20-guage steel bars. Many customer reviews are testimony to its quality of build. It gets the jobs done of keeping their pet secure.
However as with most things, there are always some exceptions, so let's look at the range of opinions on this crate.
The crate has amassed a high approval rating, with most purchasers feeling highly satisfied that they had bought the strong and reliable crate to keep their pet secure that they were looking for.
Proselect Empire dog cage reviews are heavily weighted on the positive side, with a good volume of total reviews that this crate has received.
Many buyers found that the ProSelect Empire dog crate was exactly what they were looking for to keep their pet securely contained.
Some owners feel that their pet is also less anxious inside this crate, compared to previous crates that they have owned. And after previously having purchased crates that their Houdini dog escaped from, or had made short work of destroying, they feel a great sense of peace of mind with this crate.
The cage didn't work for everyone, but again it is heavily weighted by positive reviews. For most owners, this cage is a great buy.
But if you feel that you want something stronger, or have pet travel/mobility needs, and have a higher budget, check out the Impact Case Collapsible Dog Crate.
Is It Easy To Assemble?
The cage is very easy to set up. You'll simply need to screw the side edges together via the 12 hex head screws and hex head screwdriver all included. Then you'll need to screw the castor wheels into the bottom corners of the cage.
Some people choose not to install the wheels. As while the wheels are lockable, they feel the crate is more sturdy without them.
After this you then just need to install the cage bottom, grate and slide tray, and you're done. Take a look at the Proselect Empire Dog Crate Instructions.
Where Can I Find A ProSelect Crate Replacement Tray?


If you like to keep a spare tray, or need a replacement, you'll be pleased to know that they are available for purchase.
Train Your Pet That Their Crate Is Their Safe Space
Some purchasers of this crate suggested that their pet did get used to the crate after some time was spent with their pet training them to get used to it by being around, yet out of site of their pet, so that they could monitor their pets behavior and intervene if necessary.
Training your dog to get used to being left in their crate is the general idea of a dog crate. Maintaining your presence and gradually withdrawing it in the early days of usage, helps lessen their anxiety and feeling of abandonment.
Some owners of powerful dogs suggest that a muzzle might also be used, as a dog trying to escape will typically be using their teeth to grip, gnaw and pull away at the bars. However if you choose to do so, do ensure that your dog is not left alone for long periods without having an opportunity to have some water.

Something else you may want to consider to help reduce your dog's anxiety is a Thundershirt, which are designed to help calm dogs down.
Is There Anything Not To Like?
It should be noted that a small number of buyers were not satisfied with the ProSelect Empire Dog Crate. However those complaints were mainly around possible manufacturing defects during the production run.
Or that their dog was exceptionally powerful and determined enough to be able to damage or escape from the crate. Again though, the vast majority were highly satisfied with their crate. It should also be emphasized that the idea of a crate is to train your dog to get used to it.
Some pet owners found that their dog was able to damage the crate. And some dogs were able to bite and pull away a few bars. So the ProSelect Empire cage has proven to be an indestructible dog crate for the huge majority of customers. However, it hasn't been the case for some buyers of this cage.
So what to do if you are unsure or feel your pet may be of the type that would be likely to destroy or damage even this cage? You may wish to invest in a more fully enclosed and solidly built aluminum dog crate. Of course you will have to pay a bit more for such a crate. The virtually indestructible design of enclosed cages like the Impact Case Collapsible Dog Crate are highly effective at keeping your pet secure.
The enclosed designed of aluminum cages like the Impact Case offer not just strength. They also remove the gaps present in traditional wire or metal bar style crates. Dogs may take advantage of gaps to try to bite or claw their way out of the crate. However, aluminum crates as you may expect, also tend to require a larger budget to go with that higher level of strength and security.
Restricted Crate Mobility
Because this is a heavy duty dog crate, another disadvantage is mobility if you were wanting to move the ProSelect Empire cage around. It is quite heavy at just over 75 lbs for the medium crate and 99 lbs for the larger crate. So it's something that you would not want to lift and move around.
However, it does come with wheels. So if you do desire the ability to simply move the crate around a room or hallway, you are able to conveniently push the crate along the floor. You can also remove the wheels to keep the crate level and stationary with the floor if preferred.
Floor Grate May Be Uncomfortable
The only other criticism about the ProSelect Empire Dog Crate that a few customers had was due to the floor grate, which some customers felt were uncomfortable for their pet. It is designed that way to protect your pet from soiling itself.
With the grill flooring, the mess will simply end up falling through the grill onto the floor underneath. This keeps your dog clean and free of its waste. It is a good idea to not cover the grill flooring if you are potty training your pet.
Some people choose to place a dog bed or blankets inside their Proselect professional crate. This makes the crate more comfortable for a dog that has been potty trained.
Some buyers have mentioned choosing to place the dog crate pan on top of the grate. However this latter option can only be achieved before the cage has been fully assembled. That's because the cage is not designed to be used that way. It may also invalidate your warranty for the same reason.
For owners that do want to use a dog bed inside the crate, there are plenty of choices that will fit your ProSelect Empire Cage.
Conclusion
This ProSelect dog crate is a great option for training large and powerful mutts. Many buyer reviews online agree, showing  a very high satisfaction rate in the build and quality of this crate.
Overall, this is a fantastic crate which is strong, sturdy and reliable. It is very reassuring that it uses metal bars. Traditional and cheap creates use metal wire.  Powerful dogs can destroy easily rip apart wire. Some may even cut themselves against wire easily chewed away from wire crates.
This strong metal bar crate is an investment that represents fantastic value for money. It has proven to keep many customers' dogs secure and safe with a very high satisfaction rate.
Shop for this crate on Amazon. The Proselect Dog Crate comes in two sizes:
Proselect Empire Dog Crate Medium – 37″L x 25″W x 33 3/4″H
Proselect Empire Dog Crate Large – 42 1/4″L x 30 3/4″W x 41 1/4″H:
Many purchasers of this Proselect dog crate agree that it really is escape proof. It is one of the best metal dog crates for sale at a reasonable cost. Several buyers spoke about their anguish at previous crates purchased, where their dog broke out with very little effort. It's even worse for those whose pets went on to destroy some furniture too.
They were very relieved to have now finally found a tough, robust cage that is of a build and quality that keeps their pet contained. Thanks for reading our Proselect Empire Dog Crate review.